Trump candidate, Dem underdog to vie for Florida gov's seat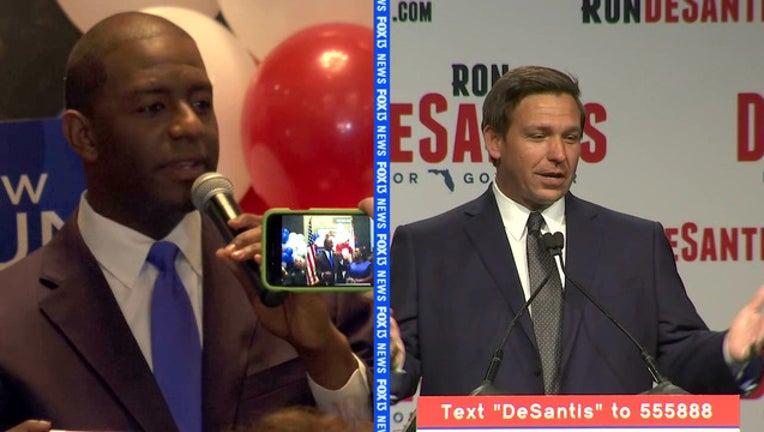 article
TALLAHASSEE, Fla. (AP) - Florida's governor's race will largely be a referendum on President Donald Trump as his hand-picked Republican nominee faces off against his political opposite, a young, black mayor who stunned a crowded Democratic field by reaching out to the far left of the party in a campaign that relied on true believers rather than big money and television ads.
The race between U.S. Rep. Ron DeSantis and Tallahassee Mayor Andrew Gillum will be unlike any Florida has seen, between candidates who defied old-school political thinking and won, in an era when Trump inspires both sides of the political spectrum in different ways.
DeSantis came from behind with the help of Trump to beat Agriculture Commissioner Adam Putnam, who campaigned longer, raised more money and built the support of the party establishment.
Gillum, who could become the state's first black governor, upset a field of five that included former U.S. Rep. Gwen Graham, who was hoping to become the state's first female governor and win the office once held by her father, Bob Graham.
Gillum spent the least of the major candidates and barely mounted a television campaign, but he won the hearts of groups that call themselves progressives and was given a late boost by Vermont Sen. Bernie Sanders.
FULL LIST: All Florida election results
Gillum and DeSantis are competing for the office held by Rick Scott, who can't run for re-election because of term limits and is instead challenging Democratic U.S. Sen. Bill Nelson. After an easy win in Tuesday's GOP primary, Scott now joins a bitter - and expensive - showdown with Nelson that could play a decisive role in determining whether Republicans maintain control of the Senate.
The governor's race, in a state sure to be a battleground in the 2020 presidential election, will essentially be a referendum on Trump.
"We're going to make clear to the rest of the world that the dark days that we've been under coming out of Washington, that the derision and the division that have been coming out of our White House, that right here in the state of Florida that we are going to remind this nation of what is truly the American way," Gillum told his cheering supporters.
DeSantis came out fighting after his victory, criticizing Gillum as "way, way, way too liberal for the state of Florida."
"That is not what Floridians want," DeSantis told reporters. "I think it's going to be a great contrast and we will make sure we take it to him."
DeSantis based nearly his entire campaign around the president, and acknowledged after the victory that Trump's endorsement was the key.
"With one tweet, that kind of put me on the map," DeSantis said.
DeSantis entered the race a month after Trump's December tweet that he would make "a GREAT governor." Later Trump held a rally for him in Tampa. Suddenly, he was considered the favorite over Putnam, who seemingly spent his entire adult life building toward the run for governor.
DeSantis' television ads were Trump-focused, including one where his toddler stacks bricks while DeSantis exclaims, "Build the wall!"
For some voters, the endorsement was all that mattered.
Don Govan, an 86-year-old retiree from Fort Lauderdale and ardent Trump supporter, walked into the polling station with a folded piece of paper in his hand that listed who to vote for based on Trump's recommendations. He said it was the only reason he voted for DeSantis.
"I don't even know (DeSantis) ... but as long as Trump says so," he said.
DeSantis, who turns 40 next month, is a former Navy lawyer who won his seat in 2012 running as a Washington outsider. He ran for Senate in 2016 but dropped out when Republican Sen. Marco Rubio shut down his presidential campaign and ran for re-election.
Gillum relied on a grassroots campaign and the support of the left wing of the party.
"I think it's what Florida's been needing," said supporter Lauren Durchslag, 34, of Orlando. "Everyone kept trying to vote for someone middle of the ground, someone who they thought would win. But I don't think middle of the ground wins anymore. I think being a progressive and being on the right side of history is going to make a difference."
In addition to Graham, Gillum beat former Miami Beach Mayor Philip Levine, who poured $29 million of his personal wealth into the race and saturated the state with 30 different campaign ads. Also in the race was billionaire Jeff Greene, who spent about $38 million of his own money on the race. Orlando-area businessman Chris King finished last.
Gillum was a 23-year-old Florida A&M student when he became the youngest person elected to the Tallahassee City Commission in 2003. He was elected mayor in 2014.
Gillum is a gifted public speaker and did well in debates, often receiving the most applause, but the FBI is investigating Tallahassee city hall for corruption. Gillum has said he's not a target.
The differences between the candidates are pronounced.
DeSantis is pro-gun, and anti-tax; Gillum boasts about beating the National Rifle Association in a lawsuit and is calling for an increase in corporate taxes.
While he didn't make race an issue, Gillum said during a recent interview that it would be "big" to be Florida's first black governor.
"I have been really slow to try to think on it because it's too big," he said. "There will absolutely be a part of this that I can't even put words to around what it might mean for my children and other people's kids. Especially growing up for them in the age of Donald Trump."
FULL LIST: All Florida election results
___
AP reporters Joe Reedy, Tamara Lush in Orlando, Kelli Kennedy in Fort Lauderdale and Mike Schneider in Orlando contributed to this report.