Two men with previous arson arrests accused of setting fire to Tampa police cruiser, detectives say
TAMPA, Fla. - Two men were behind bars Monday morning after allegedly lighting a Tampa police cruiser on fire. The cruiser was empty at the time of the fire, so no one was seriously injured, officials said.
The police car was parked at the Shoresh David Messianic Synagogue on Bay to Bay Boulevard in Tampa as a "preventative safety measure," according to officials with the temple.
Around 1:30 a.m., police said they stopped to speak to the suspects after they noticed they were riding bicycles without lights. Officers said they located them behind a closed business at Manhattan Avenue and Bay to Bay Boulevard. While speaking to the suspects, later identified as 31-year-old Matthew Wayne Ethridge and 34-year-old Jeremy David Penney, the officers said they began to smell smoke in the air.
Around 2:10 a.m., dispatchers received a call reporting the police cruiser was on fire. The cruiser had been sitting unoccupied when two suspects were able to break the vehicle window, police said. The suspects then tossed an unidentified object inside the car, starting the fire.
When officials arrived at the scene, the cruiser's front passenger window was smashed and the front passenger seat was engulfed in flames. Body camera video shows an officer running over and using a fire extinguisher to put out the fire.
"Sad and disappointing that this would happen," said Ron Leef, an elder with the synagogue. "We're thankful there was no damage anywhere other than the police cruiser, which is sufficient damage. But you never know how something can start a spark here can erupt into something greater and do a lot more damage to property and to lives."
Officers said Ethridge had a cut on his hand, which he claimed was caused when searching through a donation box on the synagogue's property. They said blood was found on the front passenger door where the police cruiser's window was broken.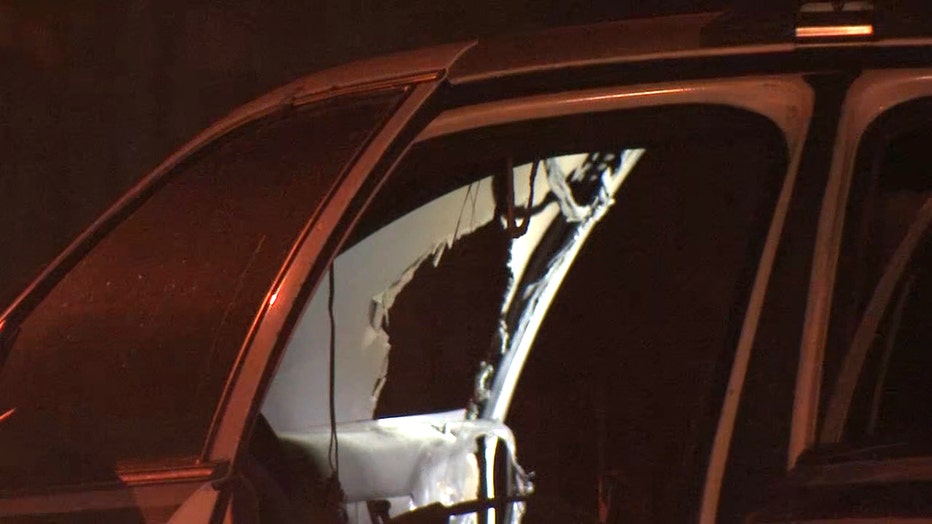 "A very astute officer noticed them in the area with no lights on bikes, was able to stop them and when they did, they literally smelled fire, found the source of it and it was our police car," said Maj. Eric DeFelice, adding the temple is not believed to have been the target.
During the questioning, officers said both eventually admitted to breaking into the police cruiser and setting the fire.
Detectives said Ethridge and Penney have prior arson arrests. Ethridge was on probation for one of those arrests. Both were taken into custody and face charges of burglary to a vehicle and arson. 
Police say they are continuing to investigate the incident. At this time, a motive is not known.