U.S. Surgeon General warns parents about the impact of social media on teenager's mental health
TAMPA, Fla. - The U.S. Surgeon General wants parents to know that social media could hurt their teenagers' mental health. 
"The most common question parents ask me is, 'Is social media safe for my kids.' The answer is that we don't have enough evidence to say it's safe. In fact, there is growing evidence that social media use is associated with harm to young people's mental health," U.S. Surgeon General Dr. Vivek Murthy said in a statement. 
According to the advisory released this week, up to 95% of those ages 13-17 report using a social media platform, and more than a third say they use social media "almost constantly."
READ: Social media could pose 'profound risk' to youth, US surgeon general warns
"Many of them relate to us that they have a significant social media presence," Crisis Center of Tampa Bay President and CEO Clara Reynolds said when describing the teenagers who call them for help. "They get caught up in some of the drama, if you will, of social media."
Reynolds said this week's warning by the nation's top doctor presents an opportunity for parents to talk with their kids about social media.
"They forget that nobody's going to post when they're having an okay day or maybe a slightly icky day," Reynolds said. "It's usually pretty big extremes: The best life or the worst life."
Reynolds told FOX 13 they also handle many calls about cyberbullying.
Johns Hopkins All Children's Hospital neuropsychologist Dr. Jennifer Katzenstein has seen that, too.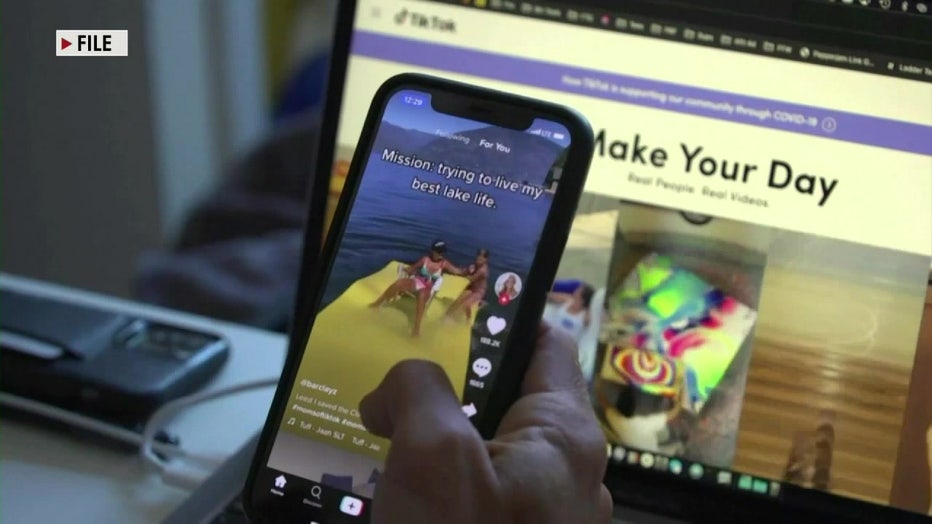 Teenager using the social media platform TikTok 
"Sometimes they're saying, 'I know who it is.' But most of the time, they don't know who it is. And so that can be a challenge," Katzenstein said. 
Many teens have a phone and are already on social media: So what can parents do?
"The parents, the caregivers are often the ones who own that phone and who are paying that cell phone plan. So you need to know everything that's on it," Katzenstein said.
READ: Surgeon General Issues New Advisory About Effects Social Media Use Has on Youth Mental Health
That means making your own social media accounts and following your kid, she said. In addition, you should know their passwords, so you can see who they're messaging with. Also, look closely at all the apps they have downloaded, Katzenstein said.
"So you might open it up. It may look like a calculator, but it's actually something else once you type in a specific code," Katzenstein said.
In addition, you can install software monitoring platforms on their phone.
Companies like Bark Technologies advertise they can monitor content and manage screen time.
"There is a sweet spot in the middle for just the right amount of usage that is good for our kids overall," Katzenstein said.