New kid-friendly Universal theme park coming to Frisco
FRISCO, Texas - A unique Universal theme park is coming to Frisco. 
Universal Parks and Resorts announced plans to build a theme park geared toward families with young children.
"The proposed park will be designed to be more intimate and engaging for younger audiences and will be sized for a regional audience. It will be full of family-friendly attractions, interactive and playful shows, character meet and greets, unique merchandise and fun food and beverage venues. Although smaller in size, it will still carry the same quality as Universal's other larger resort destinations," the company said in a news release.
Universal Parks and Resorts operate five theme parks around the world, but none are like the vision they have for 97 acres in Frisco just east of Dallas North Tollway and north of Panther Creek Parkway. 
The target audience is kids from ages 3 to 9. It's designed to be a one-to-two-day experience.
Universal Parks and Resorts President of New Ventures Page Thompson said they do have plans to expand, but that would remain geared to kids under ten. 
The themed lands haven't been decided on yet, but Thompson said they have a lot to choose from. 
"Trolls, Madagascar, Kung Fu Panda, How to Train Your Dragon, Minions, Curious George, Where's Waldo, a lot of characters people love," he said.
Frisco Mayor Jeff Cheney explained how he first learned of Universal's plans. 
"Universal Studios reached out to us. They were looking for a site to build this new theme park, and they had landed on North Texas.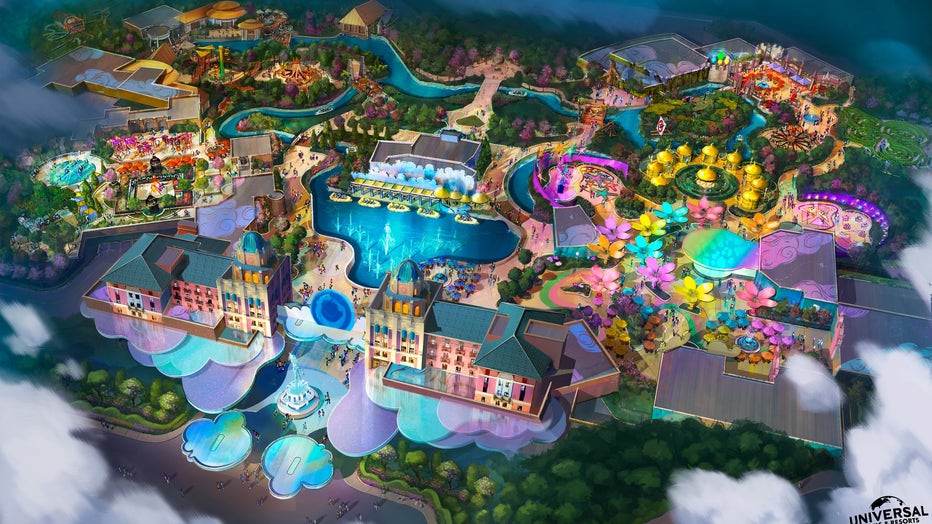 "We narrowed it down on DFW because of the large population and rapid growth," Thompson said. "We picked Frisco because it is innovative and dynamic growing city with family-friendly atmosphere."
"They asked how fast can Frisco work, and we work fast. So stay tuned," Cheney said.
The 97-acre park will be about a quarter of the size of Universal's park in Orlando, but it will still include four or five different themed lands and a 300-room hotel.
RELATED: Frisco, Plano among the 10 happiest in the country, study shows
The company said it selected Frisco for the new theme park concept because of the area's growing population and demographics, as well as the recent business development.
The planned development site is along the Dallas North Tollway north of Panther Creek Parkway, near the new PGA of America headquarters and the $10 billion Fields community development.
Thompson said there is no estimate on when the theme park could open. 
Projects like this often include tax incentives, but this is all still very preliminary.
First, they still need approval from the city, and then the building process will take several years.