Viral Photo: Stranger Exchanges Boots with Homeless Woman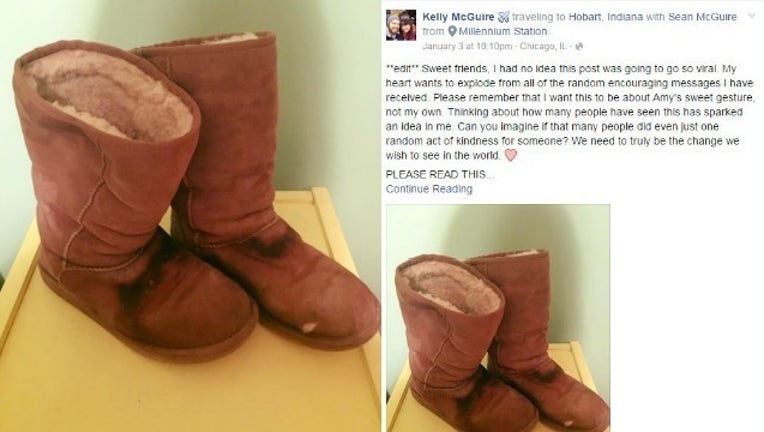 article
An Indiana woman's Facebook post about her encounter with a homeless person in Chicago has gone viral. 
Kelly McGuire took to social media to share her emotional experience after recently attending a Chicago Bears game. 
"The high today was 30 degrees, so naturally I layered up in a lot of clothing," she said. "I wore Under Armor pants and an Under Armor long sleeve shirt along with 2 additional pairs of pants, 4 shirts, 2 sweatshirts, 3 pairs of socks, 2 pairs of gloves, a coat, a hat, a scarf and my favorite new pair of winter boots." 
McGuire said after the game she went to eat pizza at Giordanos with her husband and friends and while inside, took off all of her warm weather gear and tossed it in a bag. As they headed to the train station after they were done eating, McGuire spotted a homeless woman "crouched down trying to stay warm." McGuire said she was drawn to the woman and asked her friends to wait on her as she ran over to offer some help. 
"As I approached her, I saw that her cardboard sign said 'I am in need of winter boots and winter clothing items.' Immediately I knew that this was providential timing and that I was supposed to give her the winter boots straight off of my feet." 
Turns out, the homeless woman, identified as "Amy," wears a medium in clothing and 8.5 in shoes, which are the same sizes that McGuire wears. 
"I handed her the bag of clothing and winter items that I had taken off at Giordanos, and my leftover pizza, and told her that I would like to give her my boots."
Amy stood up and cried, according to McGuire. That's when McGuire sat down with her, untied her boots and slid off the top layer of her fuzzy warm socks and handed them over to the stranger.
"She looked worn and tired when our eyes first met but by the time I left I could sense the warmth of her personality and the thankfulness in her heart."
The homeless woman said she wanted McGuire to take her old boots, which McGuire described as worn and wet. 
"She who had nothing, offered me these boots. HER boots. I wore them all the way home." 
McGuire said at the end of her post she encourages people to do kind gestures for others. She shared the following update after her post went viral:
"My heart wants to explode from all of the random encouraging messages I have received. Please remember that I want this to be about Amy's sweet gesture, not my own. Thinking about how many people have seen this has sparked an idea in me. Can you imagine if that many people did even just one random act of kindness for someone? We need to truly be the change we wish to see in the world."
APP USERS: View the Facebook post here.