VP Kamala Harris thanks service members during visit to MacDill Air Force Base
TAMPA, Fla. - Vice President Kamala Harris spent Thursday in Florida, visiting Orlando and then Tampa to meet with commanders at U.S. Central Command and Special Operations Command (CENTCOM and SOCOM) at MacDill Air Force Base.
Before her meeting with CENTCOM Commander Gen. Michael Kurilla, she met with service members representing CENTCOM, SOCOM and the 6th Air Refueling Wing to thank them for their service.
After her briefings, she got a tour of the highly secured CENTCOM Joint Operations facility.
"When we are sitting in the situation room or the Oval Office talking about Americans' responsibility, not only to the citizens of our country, but to our friends and allies around the world, we talk about you," Harris said. "We could not follow through on anything that we do in the context of those relationships and priorities were it not for what you all are doing here on the ground."
READ: Tattoo shop on MacDill Air Force Base reflects changing military culture
Earlier Thursday, she was in Orlando, leading a roundtable discussion with Democratic leaders of the Florida Legislature. She had harsh words for Republicans over restrictions being placed on abortion rights.
"We are having this conversation in the context of states, so-called leaders of states, such as some in Florida, who are seeking to restrict a woman's rights to make decisions about her own body, at the state level. We collectively agree, as do most Americans, that there are things we should just not interfere with," VP Harris said.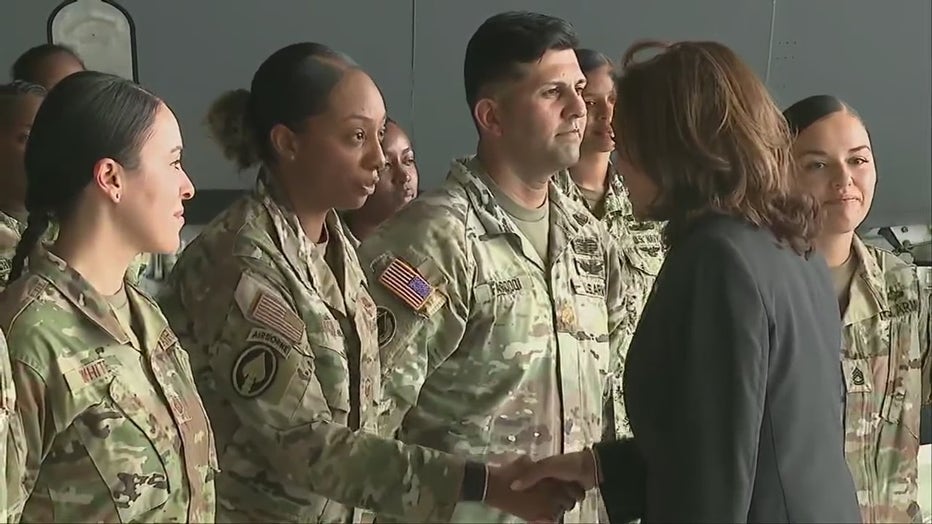 Photo: Vice President Kamala Harris thanks troops at MacDill Air Force Base in Tampa, Florida for their service
Along with talking about reproductive rights, she also had a bit of a homecoming. While she was a student at Howard University, she was a member of the Alpha Kappa Alpha sorority.
Thursday, she addressed their annual meeting at the Orlando Convention Center, where she applauded the group's efforts in improving social justice.
She is expected to leave on Air Force Two for Washington DC before 8 p.m.