Walmart launches drone delivery service in Pasco, Hillsborough and Polk counties
TAMPA, Fla. - For those in Tampa Bay, residents can now have their grocery list delivered by a drone.
Walmart is rolling out its delivery service through tech-company DroneUp. The service is now live and can be used on thousands of different products, with some restrictions and a $3.99 fee.
"Right now we are working with one, but we do plan to create a drone ecosystem that is sufficient to support the community and provide services to it," said Matthew Credle DroneUp's Flight Operations Hub Leader.
DroneUp operates commercially throughout the U.S. It was the first operator to use the FAA 107.39 waiver, an operation that allows for delivery flights to be conducted over people and moving vehicles, Walmart said in a 2021 statement when it first announced the investment.
READ: Seminole Heights woman to share story of battling terminal brain tumor at 5K aimed at funding research
The participating Walmart stores will house a DroneUp delivery hub with a team of certified pilots, the company said. Once a customer places an order, the item is pulled from the store, packaged, and loaded into the drone. It is then delivered to the customer's yard using a cable that lowers the package.
Here's how it works: You log on to droneupdelivery.com and chose your Walmart items. Within a few minutes, there's an autonomous drone programmed to take off, fly a pre-approved route, and then it'll hover 80 feet up before slowly lowering your items, usually within 30 minutes.  Currently, the max weight is limited to 10 pounds.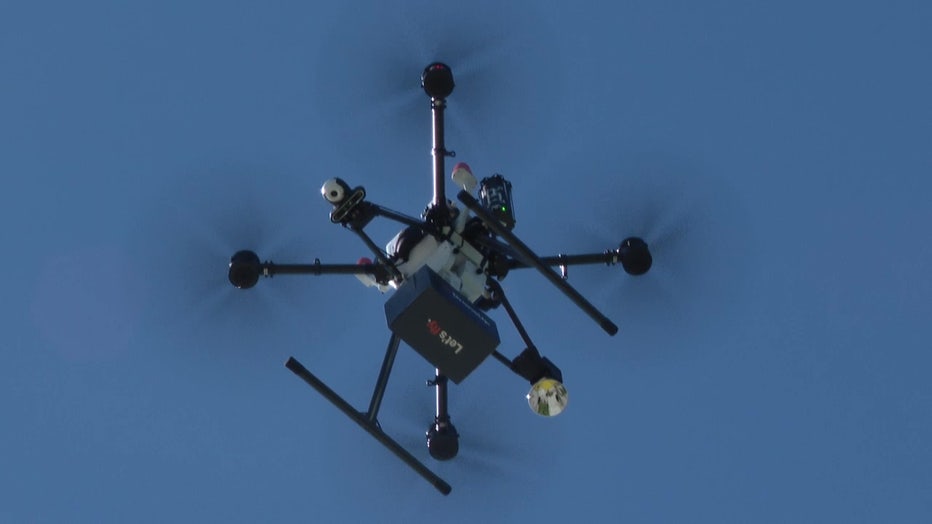 Delivery must be within a 1-mile range, but that's all expected to grow and expand.
"We also have a number of fail-safes in the drone and including battery fail safes. Jeep's lost, so a lot of redundancies to kind of prevent us from having any abnormal procedures," said Credle.
Six local Walmarts are part of this early phase:
8745 State Road 54 in New Port Richey
2140 Bloomingdale Avenue in Valrico
7450 Cypress Gardens Boulevard in Winter Haven
19910 Bruce B. Downs Boulevard in Tampa
1208 E. Brandon Boulevard in Brandon
11720 East Dr. MLK Boulevard in Seffner
Over time, it'll expand to include more stores, more drones, and other autonomous vehicles.
"I think it's going to continue to grow," said Edwin Pastoriza, a Walmart store manager, "and expand just to make everybody's life a lot easier."
Drone deliveries could help Walmart better compete with e-commerce competitors like Amazon. There are about 4,700 Walmart locations across the country, and an estimated 90% of the U.S. population lives within just 10 miles of a Walmart store, according to the company.