'We Are Seminole Heights:' Proceeds from shirts go to victims' families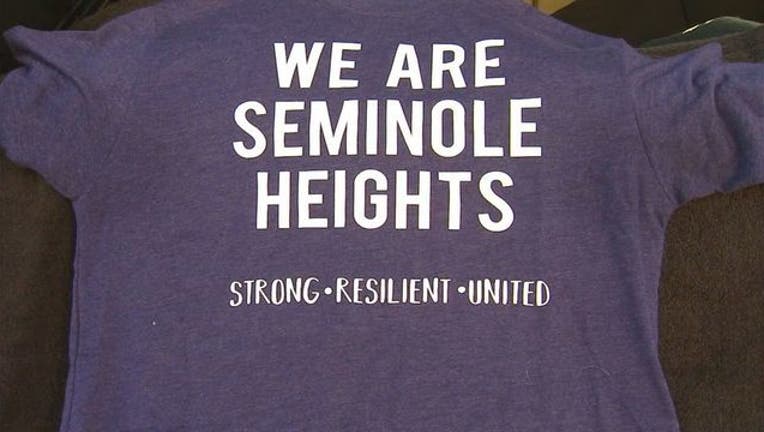 article
TAMPA (FOX 13) - It's simply put as, "We are Seminole Heights," but the meaning is so much greater. 
After four unsolved murders in six weeks -- the most recent homicide on Tuesday -- the Tampa neighborhood of Seminole Heights is on edge again, but it also means another family lost their loved one.
Ellie Baggett, owner of the Ellie Makes Things, decided to produce T-shirts with 100 percent of the proceeds donated to the four murder victims' families. She says the "We Are Seminole Heights" shirts cost $10 to produce – and many hours to hand-make -- but are being sold for $20.
"They are struggling emotionally and financially and it just makes it possible to do even more good than we could before," Baggett told FOX 13. 
Below the slogan, are the words: Strong, resilient, and united.
"We all agreed that that's what southeast Seminole Heights was," she said. "It's really important to focus on your neighborhood, community, and volunteering. It's really made us even stronger than we were before."
She started selling the T-shirts during last week's community event, "Taste of the Heights" and the response has been overwhelming. Especially, after Tampa Bay Lightning player JT Brown tweeted a photo of himself wearing the shirt on Wednesday. The tweet has since gone viral.
"I'm so excited because the more people that buy, the more we can help the families," Baggett said. "So, I'm really grateful to JT Brown for making this go viral and helping us help these families. We are currently making literally hundreds more which should be available in the next week or two."
The shirts can be purchased through the Southeast Seminole Heights Civic Association website. The link can also be found on the Ellie Makes Things Facebook page. Shirts will be hand-delivered to save on shipping costs.