'We still have a long way to go': WHO sees largest single-day increase in reported COVID-19 cases
LOS ANGELES - The World Health Organization saw its largest single-day increase in reported COVID-29 cases globally on May 20, according to WHO Director-General Dr. Tedros Adhanom Ghebreyesus.
"We still have a long way to go in the COVID-19 pandemic," said Tedros in a news briefing Wednesday. "In the last 24 hours, there have been 106,000 cases reported to WHO – the most in a single day since the outbreak began. Almost two thirds of these cases were reported in just four countries."
About 5 million people worldwide have been confirmed infected, and over 325,000 deaths have been recorded, including over 93,000 in the U.S. and around 165,000 in Europe, according to a tally kept by Johns Hopkins University, based on government data. Experts believe the true toll is significantly higher.
With more than 1.5 million cases as of May 20, the United States is the single biggest contributor to the global confirmed cases count, according to Johns Hopkins' data, eclipsing the confirmed cases of Russia, Brazil and the United Kingdom.
RELATED: CoronavirusNOW.com, FOX launches national hub for COVID-19 news and updates
Likewise, the United States also holds the highest number of COVID-19 deaths in the world, with more than 93,000 as of May 20. 
As the U.S. and other countries loosen their coronavirus restrictions, it's back to business, but not business as usual. In fact, it is becoming all too clear that without a vaccine against the scourge, the disruptions could be long-lasting and the economy won't be bouncing right back.
In Italy, where good food is an essential part of life, once-packed restaurants and cafes are facing a huge financial hit as they reopen with strict social distancing rules after a 10-week shutdown.
Experts warned that as many as one-third of the country's restaurants and bars could go out of business, up to 300,000 jobs in the sector could vanish and losses could reach 30 billion euros ($32 billion) this year.
"We have to turn upside down all the activity that we did before," lamented chef Raffaele di Cristo, who must wear a mask and latex gloves as he prepares food at the popular Corsi Trattoria in Rome. "Everything is changed."
In Connecticut, restaurants that reopened Wednesday for outdoor dining are required to rearrange workstations so that employees don't face one another, and stagger shifts and break times to minimize contact among them. Markers must be installed to encourage customers to keep their distance from one another.
RELATED: Virus-afflicted 2020 looks like 1918 despite science's march
In Fredericksburg, Virginia, one restaurant that recently reopened its patio has taken an extra step to reassure diners. The Colonial Tavern is taking staff members' temperatures at the start of their shifts and posting the results for customers to see.
Some of new rules for dining out echo reopening guidelines released by the Centers for Disease Control and Prevention. They are intended for child care centers, schools, day camps, mass transit systems, restaurants, bars and other businesses and organizations.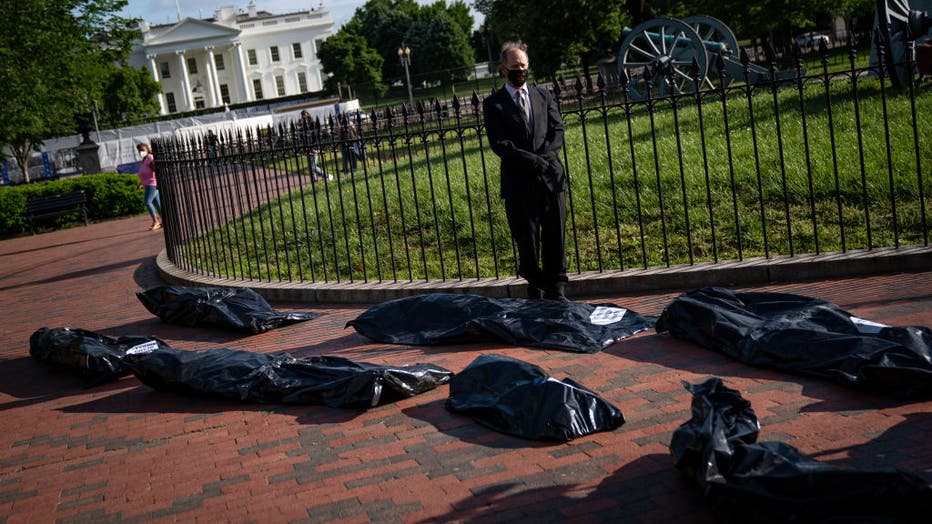 FILE - Demonstrators display fake body bags in protest of the Trump administration's response to the coronavirus pandemic, in Lafayette Park near the White House, May 20, 2020 in Washington, DC. (Photo by Drew Angerer/Getty Images)
For example, the CDC suggests mass transit systems close every other row of seats and limit how many riders can be on a bus or train.
Amid the wave of reopenings, many Americans remain wary, according to a new survey from The Associated Press-NORC Center for Public Affairs Research. The poll says 83% of Americans are at least somewhat concerned that lifting restrictions in their area will lead to additional infections.
The poll also exposed a widening partisan divide on the topic, with Democrats more cautious and Republicans less anxious as President Donald Trump urges states to "open up our country." Only about a third of Republicans say they are very or extremely concerned about additional infections, compared with three-quarters of Democrats.
RELATED: NYU researchers publish study casting doubt on accuracy of rapid COVID-19 test used by White House 
With the virus far from vanquished, the reopenings could prove to be a stop-and-start, two-steps-forward-one-step-back process.
Ford temporarily halted production at two of its assembly plants Tuesday and Wednesday in Chicago and Dearborn, Michigan, after three autoworkers tested positive for the virus. Work was stopped to sanitize equipment and isolate those who were in contact with the infected employees.
Detroit's Big Three automakers restarted their U.S. factories on Monday after a two-month shutdown.
Education, too, is facing radical changes.
Cambridge became the first university in Britain to cancel all face-to-face lectures for the upcoming school year, saying they will be held virtually and streamed online until the summer of 2021.
Other institutions have taken different tacks. The University of Notre Dame in Indiana will bring students back to campus but redesigned its calendar to start the semester early in August and end before Thanksgiving.
In South Korea, hundreds of thousands of high school seniors  had their temperatures checked and used hand sanitizer as they returned Wednesday, many for the first time since late last year. Students and teachers were required to wear masks, and some schools installed plastic partitions around desks.
France is limiting spaces in its primary schools, giving priority to the children of essential workers and those in need. Some younger students even go on alternating days, while high schools remain closed.
The Associated Press contributed to this report.