Florida pharmacies will have COVID vaccines for eligible kids under 5
TAMPA, Fla. - The White House says Florida doctors will be able to order COVID-19 vaccines for children under 5 from the federal government. 
The announcement came after Republican Gov. Ron DeSantis said the state would not order and distribute the shots in the state. 
The state was the only jurisdiction in the nation to decline to place advance orders for the pediatric shots, which received authorization from the Food and Drug Administration on Friday. 
The Florida Department of Health said in a press release in part, "Contrary to disinformation circulating, the vaccine ordering process has not changed in Florida. COVID-19 vaccine ordering – including for the 6 month to 5 year age group – has always been available to providers. Following the Emergency Use Authorization issued today, June 17, 2022, enrolled providers are able to order COVID-19 vaccines for the newest authorized age groups through Florida SHOTS."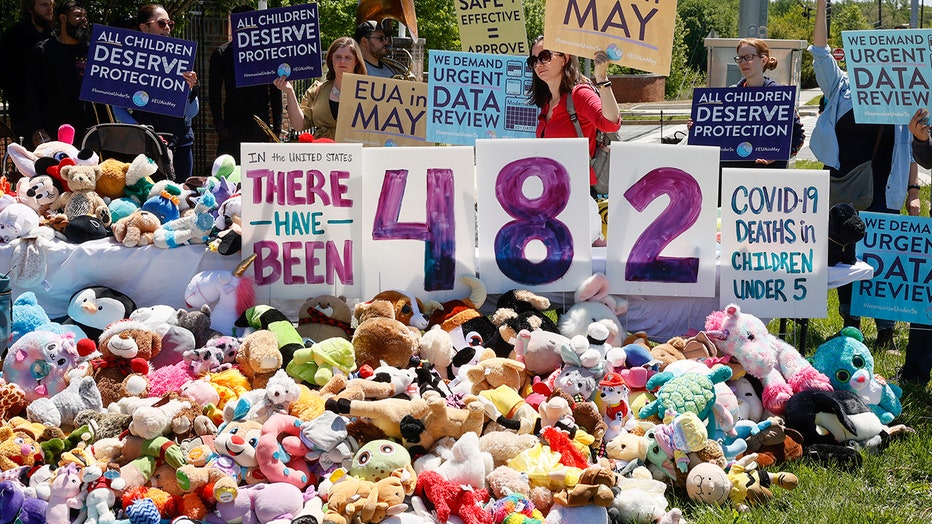 WASHINGTON, DC - MAY 09: Demonstrators hold up signs urging the Food and Drug Administration to authorize vaccines for children under 5 at the FDA on May 09, 2022 in Washington, DC. (Photo by Jemal Countess/Getty Images for Protect Their Future)
The last group, children as young as 6 months old to 4 years old, can soon get the shot, and the key is where can parents go for the dose. 
MORE: Parents unsure how children under 18 months will get COVID-19 vaccine in Florida
The state of Florida did not pre-order vaccines from the federal government, so for now county health departments won't offer shot for youngest. But there are other places, like federally qualified health centers, private health care providers and pharmacy partners that parents can go to for their children.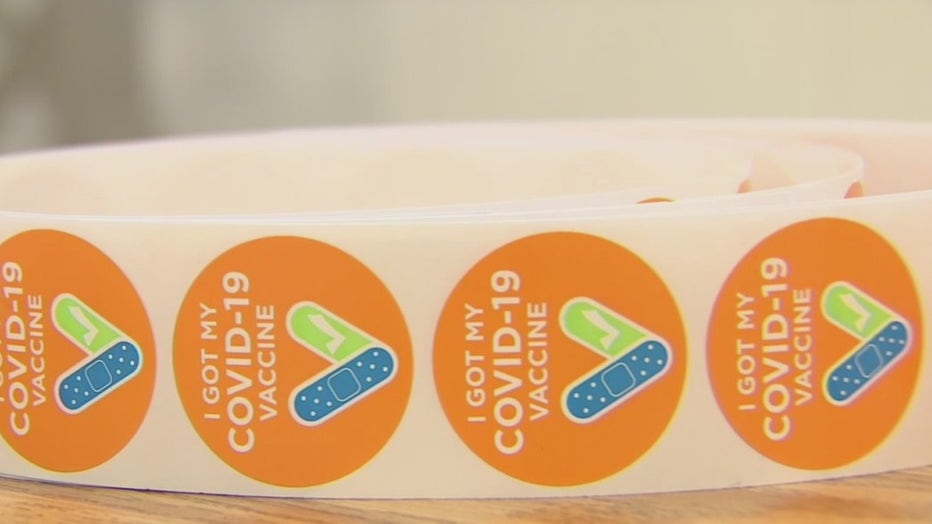 CVS Pharmacy spokesperson Amy Thibault said in an email statement to FOX 13: 
We plan to provide COVID-19 vaccinations to children 18 months through four years of age at our national network of 1,100 MinuteClinic locations once authorized by the CDC and supply is received. Our MinuteClinic clinicians comprised of board-certified Family Nurse Practitioners, Physician Associates, and Nurses, have significant experience providing vaccinations to a younger population as well as private exam rooms, which will make the process easier for kids, parents, and guardians. As a Federal Retail Pharmacy Partner, we are able to order vaccines directly from the Federal Government.
CVS said parents with children younger than 18 months old are advised to contact their child's pediatrician or healthcare provider.
At Walgreens, the children have to be a little older for the shots. 
A Walgreens corporate spokesperson sent the following statement about vaccinating children 3 years old and older: 
Walgreens continues to follow guidance from the Food and Drug Administration (FDA) and Centers for Disease Control and Prevention (CDC) on the administration of COVID-19 vaccines, and we look forward to receiving additional details regarding the availability of Moderna COVID-19 vaccines for children aged 6 months to 5 years and Pfizer COVID-19 vaccines for children aged 6 months to 4 years. In 2020, the U.S. Department of Health & Human Services (HHS) expanded the Public Readiness and Emergency Preparedness (PREP) Act authorizing licensed pharmacists to administer recommended vaccinations to children ages 3 and older. In that time, Walgreens has extensive experience administering COVID-19 vaccines to eligible populations and is the largest pediatric vaccine provider among retail pharmacies.   
 Walgreens went on to say in the statement, "We remain committed to providing our patients access to the COVID-19 services and medications they need, administering more than 65 million vaccines and 29 million tests since the start of the pandemic, and more recently, dispensing COVID-19 oral antivirals to eligible individuals."
FOX 13 also reached out to Publix and Walmart on their pharmacy policies for the youngest kids but we did not get a response.
As for private providers and hospitals, those doctors must order their own vaccines. 
"At All Children's, we are doing our own patients or patients of any of our physicians, and we'll obviously do the whole age range," said Dr. Joseph Perno, the chief medical officer at Johns Hopkins All Children's Hospital in St. Petersburg.
Dr. Perno said the COVID-19shot has been slow to get into children's arms so far.
"Each age range I think we haven't done as well as the one previous. So you know initially the teenagers we did pretty well.  I know currently we stand around 25% of the kids in Florida who are the 5 to 11 age range. There's been some hesitancy with the families," said Perno.
Doctors said if you don't have insurance, there's still a shot for your child.
"Most places there is no charge for the vaccine. Typically, the vaccine itself is free and then administration, sometimes they will charge your insurance. And if you have no insurance, you're not charged. So as CVS, Walgreens, it doesn't matter if you don't have insurance," said Perno.
A spokesperson with Johns Hopkins All Children's Hospital sent FOX 13 this statement about ordering the vaccines: 
After unsuccessful attempts this week, we were able to place an order for the COVID-19 vaccine for children 6 months through 4 years old this morning through the state's Florida SHOTS program and are awaiting shipment details as well as the CDC recommendations and full approval. If we receive supply, we plan to offer appointments for existing patients in our general pediatrics clinics in St. Petersburg and Sarasota, as well as some inpatients. These appointments will be limited and must be scheduled in advance.
The children's hospital recommends parents visit https://www.hopkinsallchildrens.org/Patients-Families/Coronavirus-(COVID-19) for more information, and for frequently asked questions and answers, visit https://www.hopkinsallchildrens.org/ACH-News/General-News/What-to-Know-About-the-COVID-19-Vaccine-for-5-to.
A Centers for Disease Control and Prevention advisory board is meeting Saturday to discuss how the vaccines should be used in the youngest children, and the CDC director must also approve before the shots can be administered.
The Associated Press contributed to this report.