Withlacoochee State Trail offers cyclists a unique way to explore the Withlacoochee area
FLORAL CITY, Fla. - It's billed as one of the longest paved trails in our state. The Withlacoochee State Trail is 46 miles of paved pathway.
Built on the retired Atlantic coastline Railroad bed, the trail offers cycling enthusiasts a unique way to explore the Withlacoochee area without the hustle and bustle of a highway.
"This trail is one of the older trails in Florida," shared Mason Price, with Select e-bike in Inverness.
His business rents bicycles and electric bikes to riders visiting the trail.
READ: Wonderfield Farm and Retreat provides visitors with a unique way to connect with nature
"It's a very wooded trail, so there's a lot of shade," he answered when asked about the trail's condition, "It is very flat, but there are some hidden hills."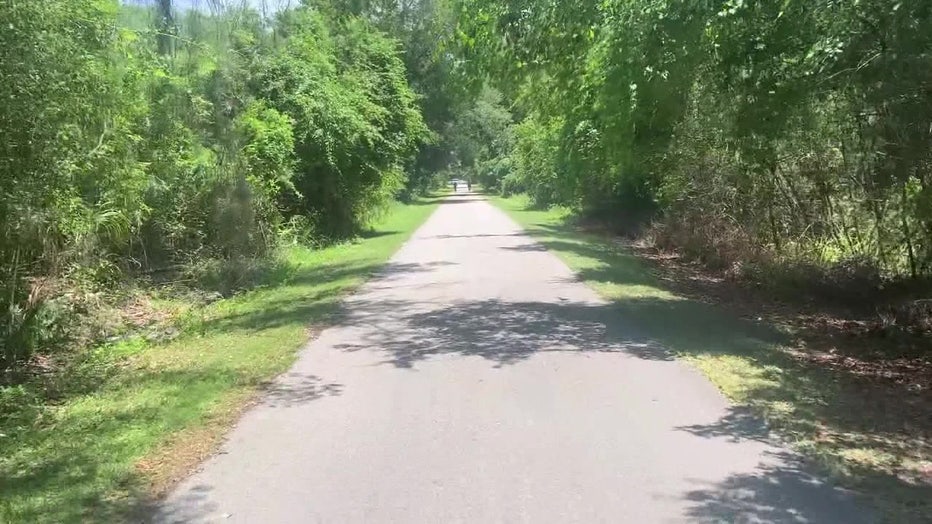 The Withlacoochee State Trail allows cyclists to take in the natural surroundings 
Those hills would give a regular cyclist a workout but would just be part of the course for an e-bike user.
The trail stretches from Dunnellon at the northern end to Lacoochee at the southern end.
There are water stops and restrooms along the way and places to stop and take in some scenery or history.
READ: Black bear caught on camera wandering through Carrollwood, Lutz neighborhoods
"There's Fort Cooper State Park about a mile south of us," said Price, "It is in the top ten of all of the trails in Florida."
To learn more about the Withlacoochee State Trail and the different starting and stopping points, by clicking here.