WTVT Lost Archives: Freeze of 1962 burned into minds of citrus growers who braved bitter cold to salvage crops
TAMPA, Fla. - In the Bay Area, the weather can be your best friend or your worst enemy and nobody knows that better than farmers, ranchers, and growers. 
FOX 13 recently discovered some forgotten WTVT news film that tells the story of one of the worst freezes the region has ever experienced. 
In 1962, when the temperatures began to plunge, 82- year-old George Turner was in the groves east of Tampa. 
"I was 20 or 21 years old," he said. "Where I was working that night, it was 16 to 18 degrees. It was the coldest I've ever been in my life," he said with a shiver 60 years later. "It was that way for two nights, the 12 and 13 of December."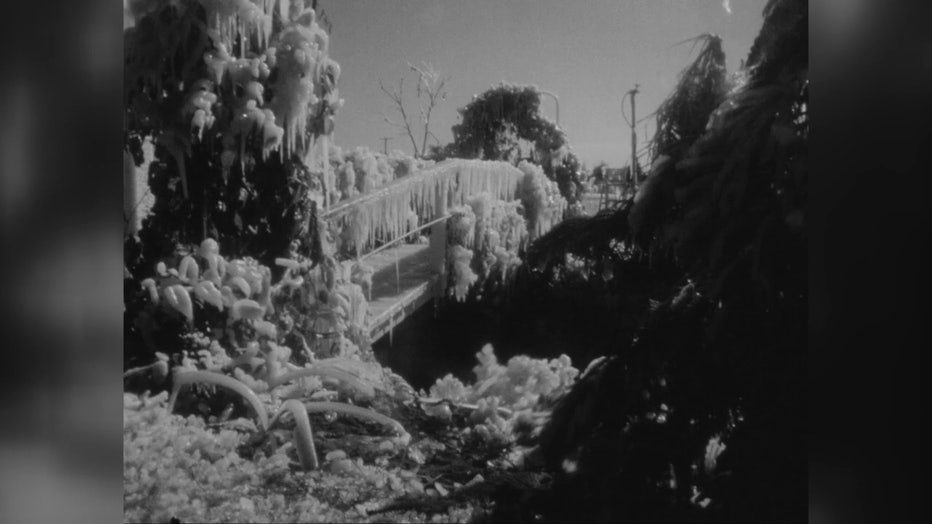 George and his son Brad Turner watched the recently restored WTVT news film showing preparations for the freeze. 
The black and white footage shows growers rushing to try and save their crops. George Turner watched the forecast on Channel 13. It came from WTVT's legendary chief meteorologist, the late Roy Leep. 
READ: WTVT's Lost Archives: 1974 Tarpon Springs Epiphany dive reveals tale of 2 archbishops connected by a cross
"I can recall him saying how many hours it would be below freezing and he was pretty close," shared George Turner.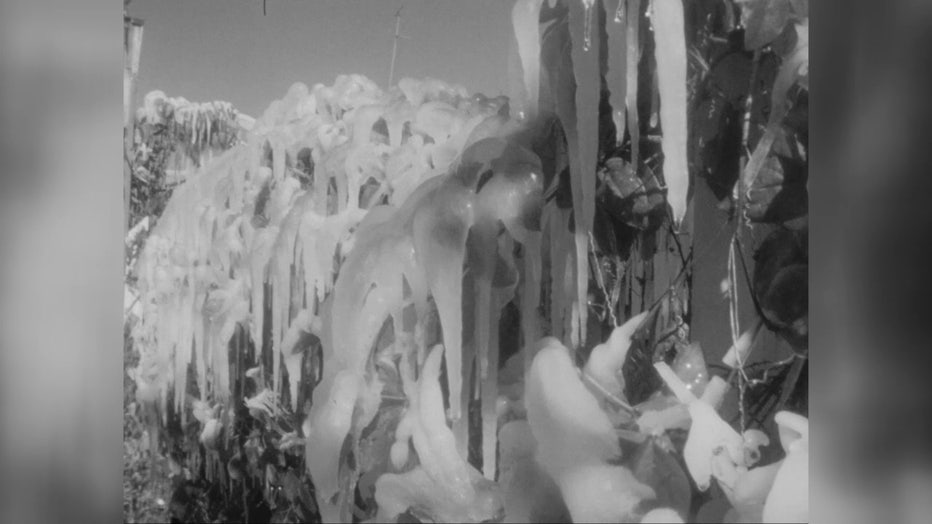 Brad Turner wouldn't be born for several more years, but the story of the great freeze was told in his family. 
READ: WTVT's Lost Archives: How Tampa became a popular site for conventions
Growers scrambled to get heaters for their groves. They burned diesel fuel. A load of heaters arrived just hours before the freeze. 
"Him and my mother were assembling those as fast as they could to get them out," Brad Turner shared looking at his dad.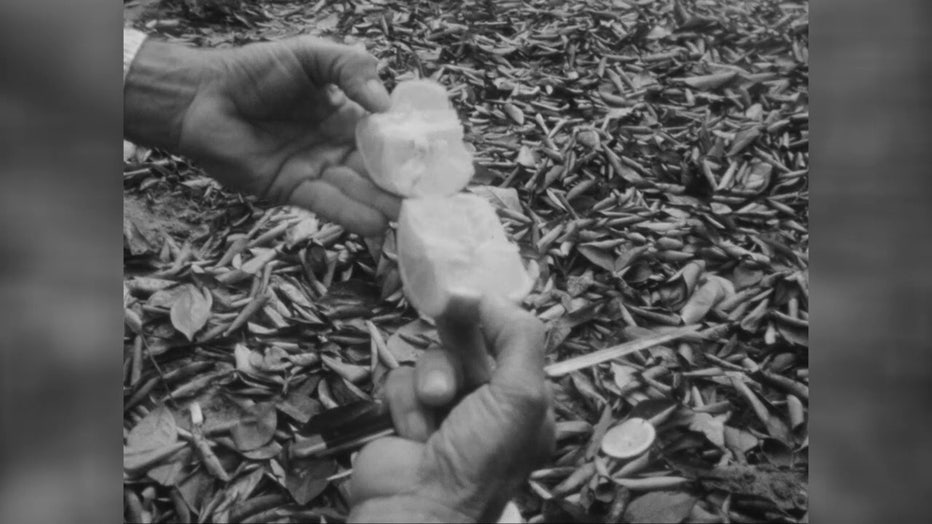 An orange after the 1962 freeze. 
It began the frenzy of the freeze. 
"That night you were lighting the heaters then the next day you were filling them up again for the next night," explained George Turner. 
READ: WTVT's Lost Archives: The man who envisioned Tampa International Airport and his secrets to success
But the heaters would only protect small parts of a grove. Others tried to spray water to form a protective barrier of ice, but George Turner says that proved disastrous for the larger trees when the ice formed. "The limbs broke down with the ice and the trees just split in half," he says. 
The freeze had a crushing effect on the oranges. The old WTVT film captured an interview with a leader of a citrus industry organization.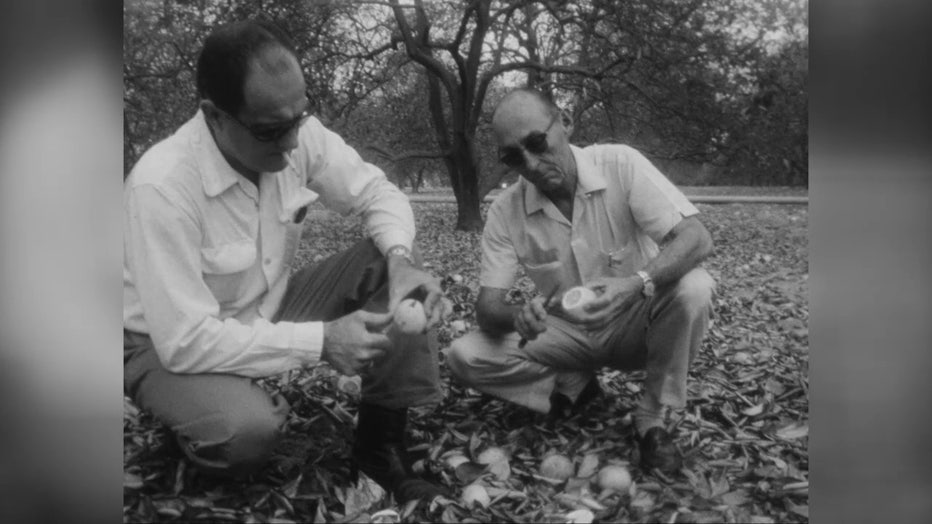 Men inspect oranges after 1962 freeze. 
"That's Bob Rutledge," explained George Turner. "I was on the board of Florida Citrus Mutual when Bob was there."
READ: WTVT's Lost Archives: A civil rights turning point in Tampa
Right after the freeze, growers and agricultural officials set out to see how many of the frozen oranges could be salvaged to make juice. WTVT footage shows a man cutting into an orange with a knife.  
"The inspector will cut it. You can keep packing it for fresh if it isn't frozen too deep," shared George Turner.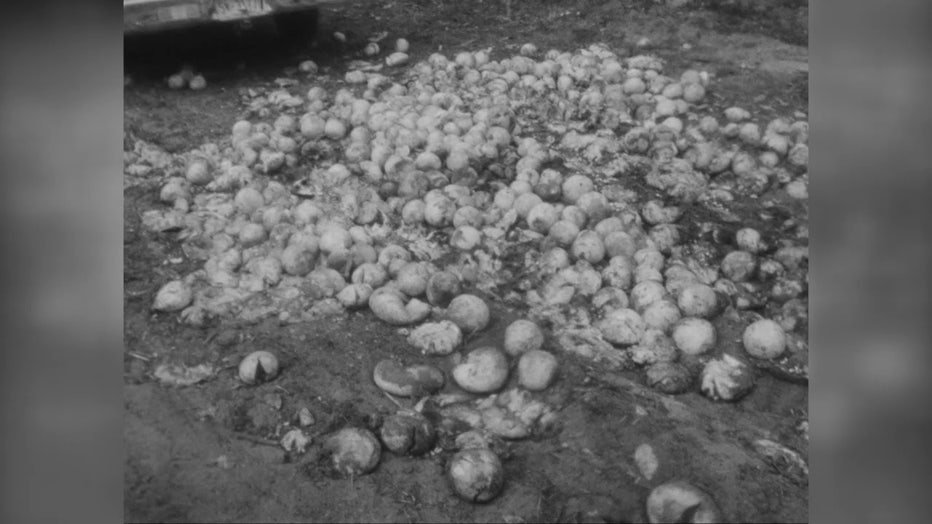 Oranges after 1962 freeze
The next scene shows 1950's era tractor trailers hauling oranges to juice plants. It was a race to save what they could. 
READ: Preservationists concerned about proposal for car dealership near Brandon historical landmark
"Any amount of tonnage on the road was allowed, all of that (truck weight restriction) was lifted so you could salvage this stuff," said Brad Turner. 
The freeze took a heavy toll.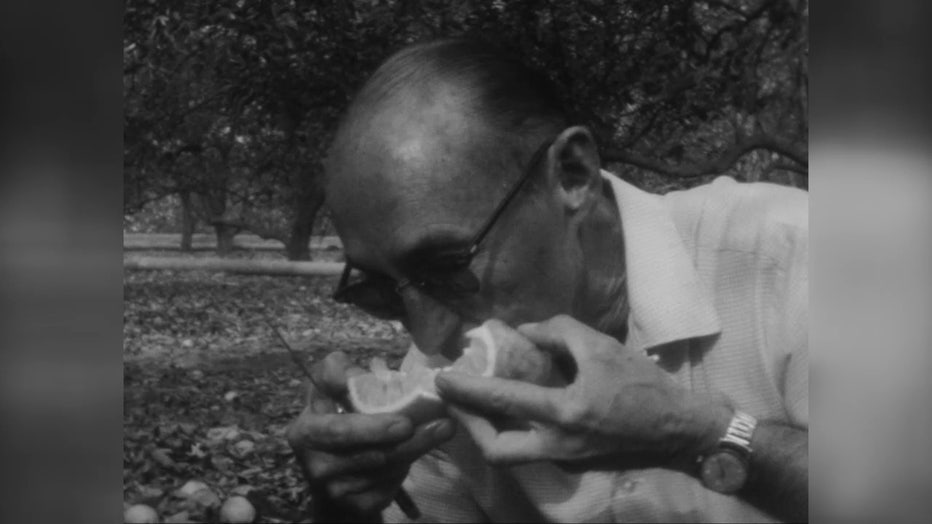 Man eats an orange after the 1962 freeze. 
"The citrus industry has lost considerably more fruit than in 1957," said a citrus commission official in an interview with Channel 13. 
READ: Ybor City's newly restored Centro Asturiano pays tribute to cigar workers who helped build Tampa
George Turner remembered more about the freeze than he thought he would. Seeing the restored WTVT footage jogged memories that were burned in by the bitter cold 60 years ago.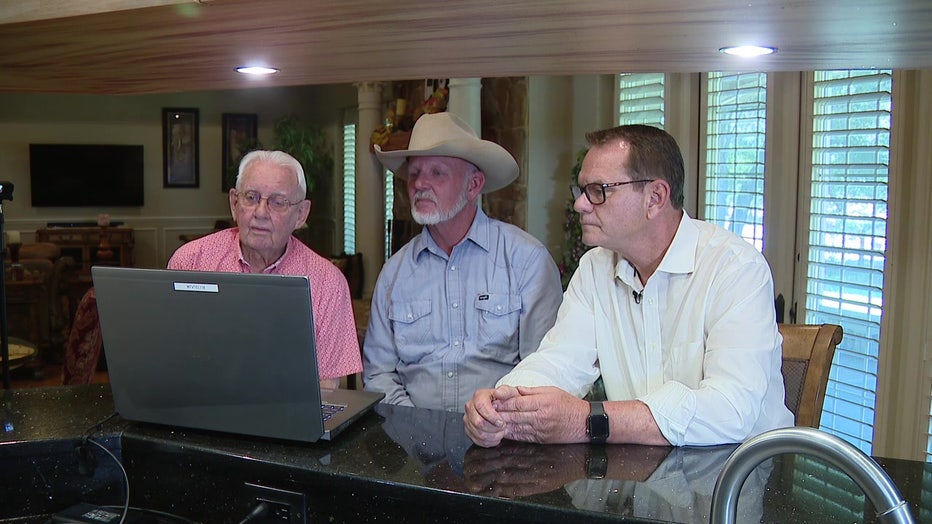 Lloyd Sowers and George and Brad Turner watch old footage from 1962 freeze. 
Since then, growers have battled years of freezes, diseases, and hurricanes. George Turner retired years ago. Brad Turner gave up his groves and is now a consultant for the growers who have survived. He has hope for their future. 
"Where people have good production and everyone can make a living, I think it could come back," he said. "Unless there's another freeze like 1962."