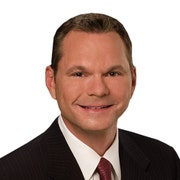 Lloyd Sowers
Anchor & reporter
Lloyd Sowers is a co-anchor for the FOX 13 News weekend editions, and he covers many stories for other FOX 13 newscasts.
Lloyd joined FOX 13 in February 1987. He has covered many major stories, including hurricanes Andrew, Hugo, Opal, Elena, and Charley.
Lloyd has won many honors, including two Emmy awards and the Florida Bar Association Award for reporting legal issues. He has also received AP, UPI and SPJ awards.
Lloyd earned his degree in Journalism from West Virginia University and graduated Magna Cum Laude. He minored in Speech Communication and English.
Before joining the FOX 13 news team, Lloyd worked at WINK-TV in Ft. Myers, Florida; WDTV in Clarksburg, West Virginia; WCLG in Morgantown, West Virginia and WMSG in Oakland, Maryland.
In his spare time, Lloyd enjoys scuba diving, travel, history and old radios. He, his wife Kim and sons Jack and Gray, live in Tampa. 
If you would like to contact lloyd, you can email him at Lloyd.Sowers@fox.com. You can also connect with him on Facebook and follow him on Twitter @LloydSowers.
The latest from Lloyd Sowers