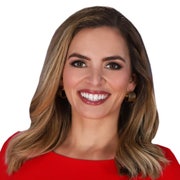 Allie Corey is an Emmy award-winning journalist who co-anchors the 6 p.m. and 10 p.m. weekday newscasts. 
She joined FOX 13 in June 2022 and is a Florida native. Allie grew up in Palm Harbor and graduated from Florida State University. She's worked in Gainesville, Providence and St. Louis. As a Florida girl, she's grateful for the opportunities she's had to explore New England and the Midwest, but couldn't be more excited to be back home. 
Allie has covered a variety of big stories during her career, including the Boston Marathon Bombings and the Sandy Hook Elementary School shooting. Allie has done live reporting in hurricanes and in snow storms. She most recently worked as a morning anchor at KSDK-TV in St. Louis where she won an Emmy for an anti-bullying series and was honored as Best News Anchor by the Missouri Broadcasters Association in 2019. 
Allie loves finding answers to your questions and solutions to your problems. She is honored to be serving the Tampa Bay area and is thrilled to do what she loves in the place where she grew up. 
When she's not anchoring the news, she is spending time with her husband, two young boys and dog, Bear. She loves doing anything outdoors and is looking forward to being able to go running outside year-round!
If you'd like to reach out to Allie Corey, follow her on Facebook or tweet her at @alliecoreyfox13.
The latest from Allie Corey