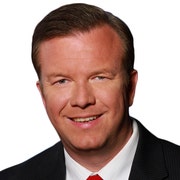 Craig Patrick
Chief investigator & political editor
Craig is FOX 13's political editor and chief investigator. He has won more than 20 Emmy awards throughout his career as an executive producer, anchor, and reporter.
He hosts Money, Power & Politics, and produces investigations focused on questionable government policy and spending. His reports have exposed illegal state tax credits, lawmakers violating their own voting rules, and Medicare schemes that bilk millions of tax dollars.
He previously led the investigative/special projects unit at the ABC affiliate in Orlando, managed the station's election coverage, moderated a weekly political discussion program, and produced a variety of primetime specials.
Craig began his career as an anchor/reporter at television stations in Savannah and Birmingham. He also worked as a marketing/public-relations executive -- and is a past winner of the Phillips Platinum PR award for developing a top-rated internal communications program. He obtained his BA in Journalism/Political Science from Spring Hill College in Mobile.
Craig has served on the boards of several Tampa Bay area government and community organizations, including the St. Petersburg Planning Commission, Historic Preservation Commission, City Beautiful Commission, Pinellas Public Access Advisory Board, Tampa Bay Partnership's Transportation and International Councils, Pinellas Juvenile Welfare Board Community Council, and Tampa Bay Red Cross Advisory Board.
If you would like to contact Craig, you can email him at Craig.Patrick@fox.com. You can also connect with him on Facebook and follow him on Twitter @FOX13Politics.
The latest from Craig Patrick