4 NCAA basketball coaches among 10 charged with fraud, corruption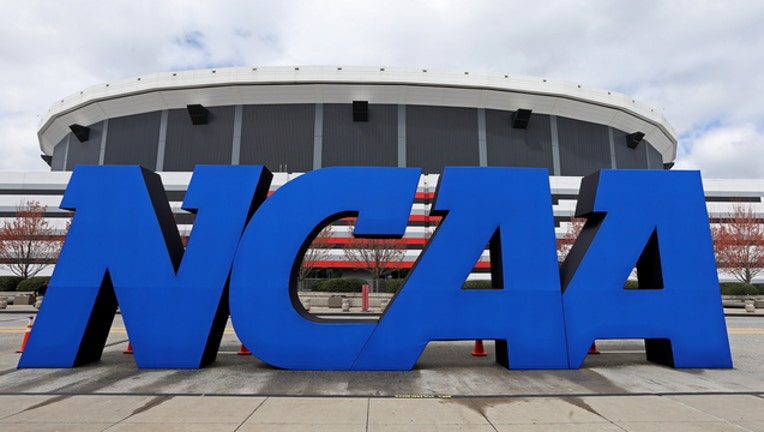 article
NEW YORK - (AP) --  In one of the biggest crackdowns on the corrupting role of money in college basketball, 10 men -- including a top Adidas executive and four assistant coaches -- were charged Tuesday with using hundreds of thousands of dollars in bribes to influence star athletes' choice of schools, shoe sponsors, agents, financial advisers, even tailors.
Some of the most explosive allegations appeared to involve Louisville, one of the college basketball's biggest powerhouses.
Court papers say at least three top high school recruits were promised payments of as much as $150,000 -- using money supplied by Adidas -- to attend two universities sponsored by the athletic clothing company. Court papers didn't name the schools but contained enough details to identify them as Louisville and Miami.
"The picture of college basketball painted by the charges is not a pretty one," said acting U.S. Attorney Joon H. Kim, adding that some the defendants were "circling blue-chip prospects like coyotes."
Federal prosecutors said some of the bribe money went to athletes and their families, and some went to coaches, to get them to use their influence over their potentially NBA-bound players.
The coaches were identified as Chuck Person of Auburn, Emanuel Richardson of Arizona, Tony Bland of Southern California and Lamont Evans of Oklahoma State.
Those charged also included James Gatto, director of global sports marketing for basketball at Adidas; Rashan Michel, a maker of custom suits for some of the NBA's biggest stars; and various advisers and managers.
Since 2015, the FBI has been investigating the influence of money on coaches and players in the NCAA. Kim noted that a special FBI hotline has been set up and invited anyone aware of additional corruption to come forward.
Prosecutors said the coaches took bribes to use their "enormous influence" to steer players toward certain financial advisers and agents.
He said those charged "exploited the hoop dreams of student-athletes around the country, allegedly treating them as little more than opportunities to enrich themselves through bribery and fraud schemes."
Adidas said it was unaware of any misconduct by an employee and vowed to fully cooperate with authorities.
Among other things, Gatto and others were accused of bribing high school athletes and their families at least three times this year in exchange for a commitment by the players to play basketball for two Adidas-sponsored universities.
In one cased, Gatto and others funneled $100,000 to the family of a high school athlete to gain his commitment to play at Louisville, and to sign with Adidas once he became a professional.
The player's name was not released, but details in the complaint, including references to news coverage of his signing, make it clear that investigators were referring to Brian Bowen. The university did not make Bowen available for comment.
The development comes as Louisville is appealing NCAA sanctions handed out in June following an escort scandal that unfolded nearly two years ago. The scandal could cost the school its 2013 national championship.
Louisville interim President Gregory Postel confirmed the university has been informed it is part of the investigation and said it will cooperate fully. "Any violations will not be tolerated," he said.
Court papers portrayed the universities as victims of the schemes, saying they paid out financial aid after their coaches falsely assured them they were unaware of any rules violations.
The investigation began after a financial adviser who ran a firm that catered to pro athletes began cooperating in 2014, providing information corroborated by recorded conversations and surveillance, authorities said.
That person, not identified in court papers, pleaded guilty this month to fraud and other crimes.
Most if not all of the 10 defendants were under arrest. Lawyers for Gatto, Person and Richardson did not immediately respond to requests for comment.
Person, associate head coach at Auburn, was drafted by the Indian Pacers in 1986 and played for five NBA teams over 13 seasons. Auburn promptly suspended Person without pay.
Prosecutors said Person accepted about $91,500 in bribes from the unidentified financial adviser in 2016 to steer clients to him when they reached the NBA. Some payments were alleged to have been arranged by Michel, a former NBA referee turned high-end clothier.
Person was quoted by prosecutors as telling one player: "The most important part is that you ... don't say nothing to anybody ... don't share with your sisters, don't share with any of the teammates, that's very important `cause this is a violation ... of rules. But this is how the NBA players get it done."
As for the suit-maker, Person told the same player: "Rashan can get you suits and stuff. ... You'll start looking like an NBA ballplayer, that's what you are."
Prosecutors quoted Evans as bragging about his ability to steer young athletes toward prospective agents and advisers, saying, "Every guy I recruit and get is my personal kid." He also allegedly boasted that he could "bury" any other advisers who tried to sign his players.
Prosecutors said Evans solicited at least $22,000 over the past two years, while Richardson in February was paid $20,000 in bribes, some of which he kept for himself and some of which he gave to at least one high school athlete to get him to play for Arizona.
Between July and September, two advisers arranged at least $13,000 in bribes to Bland, who boasted, "I can definitely mold the players and put them in the lap of you guys," prosecutors said.
The University of Arizona released the following statement following the FBI's announcement: