Bucs' Chris Godwin learns from a Hall of Famer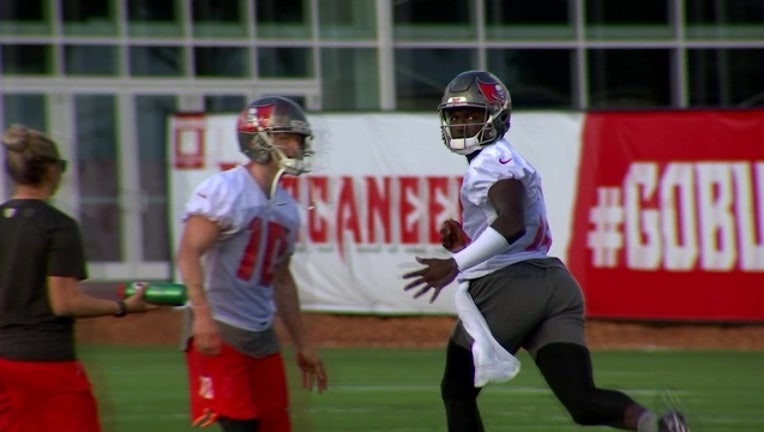 article
TAMPA (FOX 13) - Buccaneers wide receiver Chris Godwin spent a week in July learning from one of the best receivers to play the game. Hall of Famer Randy Moss was Godwin's boyhood idol, and a player that Godwin grew up trying to emulate by "Mossing" kids.
"Always," laughed Godwin. "I think every kid in my generation, we all grew up trying to 'Moss' people. That was the big thing."
Godwin didn't see much action until the second half of the season where he racked up 85 percent of his yards. His best game came in the finale against the New Orleans Saints. It was Godwin's first 100-yard game and first NFL touchdown. 
But Godwin isn't satisfied with being good. He wants to be great and he absorbed everything his idol pasted along to him.
"How detailed you need to be in your routes," said Godwin. "How crisp you need to be with your angles, with understanding football. Just trying to be a well-rounded receiver."
The Bucs' deepest talented position on the team is at wide receiver. Both Mike Evans and DeSean Jackson are Pro Bowl receivers, but even among those two greats Godwin is making his presence known among his teammates.
"He can make a 10-year career out of the way he played last year," said Bucs quarterback Ryan Fitzpatrick.  "I don't think he wants to settle for being a guy that's going to be a role player that is going to be a good number two or three receiver. At some point in his career he's got to strive to be that number one go-to guy, and he's just going to continue to get better and better. I think I see that in him, too. His drive and his willingness, whether that's in the film room or after practice, the way that he works out here it's really impressive. We're expecting big things out of him, so we're hoping that he continues to improve."
Godwin is one to watch during this camp. He's a player poised for a breakout season.