Bucs QB Winston: Coaches want to win more than some players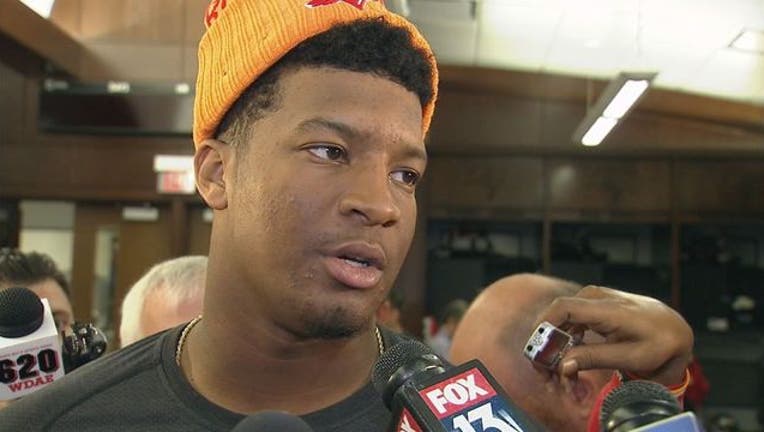 CHARLOTTE, N.C. (AP) — The frustration could be seen all over Jameis Winston's face.
The Tampa Bay Buccaneers rookie quarterback questioned his teammate's desire and expressed angst over the team's 6-10 season Sunday night following a 38-10 loss to the Carolina Panthers in the regular-season finale.
"If you look at this team, and you look at what we came from, if our coaches weren't on (us), we wouldn't have won six games," Winston said. "I guarantee that. There are coaches here who want it more than some of our players, and that's the bad part."
The losing is especially frustrating for Winston, who won a national championship at Florida State.
He said he can't remember losing four straight games — as the Bucs did to close the season — ever before in his life.
"It's in here," Winston said, pointing to his heart. "This game is about will. This game is about taking things, so you have to at least try to take a win. You can't go 0-4 at the end of the year."
The Bucs have finished either last or tied for last in the NFC South in each of the past five seasons.
"This team that represented us on the field today needs to get a lot closer to them," Bucs coach Lovie Smith said of the Panthers, who finished the season 15-1. "We didn't give them much of a fight today."
Said Winston: "I'm just ready for next year."
For the first time, the road to the Super Bowl in the NFC will go through Charlotte.
Cam Newton ran for two touchdowns and threw for two more, and the Panthers captured the No. 1 seed for the first time in their 21-year history.
"It's extremely big," Newton said. "We find our edge playing in front of the home crowd. Everything here feels just right. We don't have travel to a hostile environment. This is our house — and it's hostile."
Newton tied Steve Young's NFL record for most career TDs rushing by a quarterback with 43. Young took 15 seasons to reach that plateau; Newton did it in five.
Newton completed 21 of 26 passes for 293 yards as Carolina (15-1) overcame a slow start to build a 31-3 lead in the third quarter.
Rookie Devin Funchess had seven catches for 120 yards and a touchdown and Cameron Artis-Payne ran for 44 yards and a score as Carolina won its 11th straight home game, the longest streak in the NFL.
Winston threw for 325 yards, but was intercepted twice as the Bucs (6-10) finished last in the NFC South for the fourth time in five years.
The Bucs led 3-0 after the first quarter before Newton began to heat up.
The Pro Bowl quarterback put the Panthers up for good early in the second quarter by scoring on a quarterback bootleg around the right end.
After Graham Gano's 49-yard field goal, linebacker Thomas Davis intercepted an underthrown pass by Winston setting up an 11-yard TD run by Artis-Payne, who saw extensive action with Carolina's top two running backs — Jonathan Stewart and Fozzy Whittaker — sitting out with injuries.
The Panthers made it 24-3 when Newton connected on a 31-yard strike down the middle to an open Jerricho Cotchery just before halftime. It marked the 31st time Newton had thrown and run for a touchdown in the game, tying him with Young for another NFL record.
Carolina increased its lead to 31-3 after Tampa Bay's Robby Rainey fumbled a punt return and Joe Webb picked up the ball and returned it to the Bucs 5. Two plays later, Newton scored on a quarterback sneak to tie Young's rushing record.
The Panthers needed a win or an Arizona loss to seal home-field advantage throughout the playoffs.
But despite the big lead — and the fact the Cardinals were losing big to the Seattle Seahawks — Panthers coach Ron Rivera kept his starters in the game until late in the fourth quarter.
Winston scored on a 4-yard rushing touchdown before Newton added a 16-yard TD pass to Funchess over the middle, bringing fans to their feet with chants of "MVP! MVP!"
NOTES: Bucs wide receiver Mike Evans was ejected with 1:55 remaining for "disrespecting an official" after disputing an incomplete pass in the back of end zone. Evans wanted a flag on the play. ... Panthers wide receiver Ted Ginn Jr. sat out with a knee injury. ... Bucs fullback Jorvorskie Lane was carted off the field after Tampa Bay's first play of the game with a broken leg.
___
AP NFL website: www.pro32.ap.org and www.twitter.com/AP_NFL