Bucs' running backs look to break free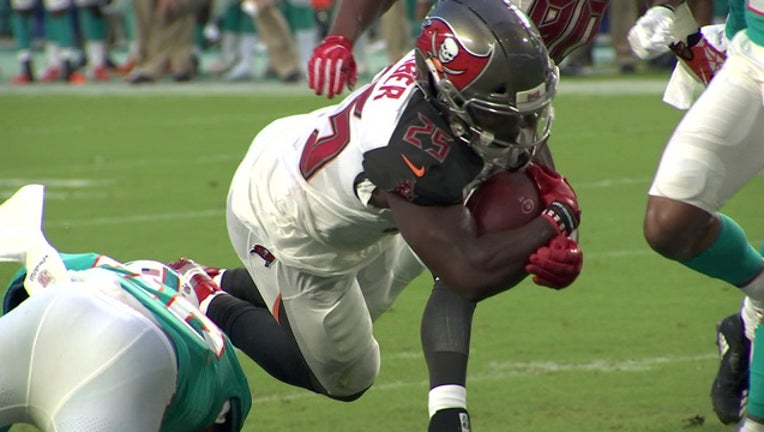 TAMPA (FOX 13) - Breaking loose for explosive plays is one of the most important factors in deciding the outcome of an NFL game. Last season, the Buccaneers' ground game was a dud. Only the Arizona Cardinals had fewer runs of 12 yards or more. 
Finding a fix is one of the top priorities in training camp for Bucs running back coach Tim Spencer.
"We've got to me more consistent in the run game, obviously," said Spencer. "We have to be more consistent as runners, make sure we're pressing the hole and seeing what we need to see. I'm pleased with the guys so far, but we're making way too many mistakes. You know, the little things."
The Bucs drafted Ronald Jones in the second round this year to be their home run hitter, but his debut really didn't go the way they planned. Against the Dolphins, Jones rushed for just nine yards on eight carries. That's just over a yard per run. 
His success at USC shows that he knows what to look for when it comes to breaking a long run.
"Coach always tells us to stay patient," said Jones. "Just don't try to make the big play, every play. They'll come to you. When the hole is there, hit it. That's what will get you into those foot races."
Right now Peyton Barber has the lead to be the Bucs' starting running back. Against the Dolphins, he averaged over five yards per carry, but none of the Bucs' backs' runs were explosive.
"It's got to happen," said Spencer. "You have to read what you read and those things will happen. If you have the juice to go, we need it."
His name is tough say, but Dirk Koetter says Dare Ogunbowale – that's DAR-ay Oh-goon-bo-WALL-ay – is a name you need to learn.
"Probably the most improvement, I would say from Dare, number 44, said Koetter.  "We had him for a week on the practice squad last year. He wasn't with us in OTAs and he's only been with us for a couple of weeks. From an improvement standpoint, I'm really impressed with how he's picked it up, how he does at running back, and how he plays on special teams. All of those guys are doing fine."