Bucs sign defensive coordinator Smith to contract extension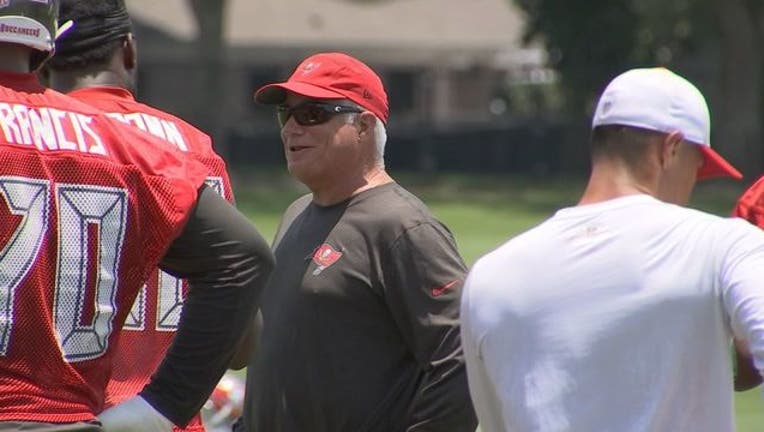 TAMPA (AP) - Mike Smith says he's committed to helping the Tampa Bay Buccaneers realize their potential, not trying to become a head coach again.
The Bucs signed their defensive coordinator to a contract extension on Friday, ending speculation about where the former Falcons coach might wind up next season.
Smith spoke with the Jaguars and the Chargers about head coaching vacancies this winter after an improved Bucs' defense led a turnaround that produced Tampa Bay's first winning record in six years.
The Bucs (9-7) won six of eight following a 3-5 start and weren't eliminated from playoff contention until the final week of the season. The defense allowed 17.1 points per game, while leading the NFL with 13 interceptions during the surge.
Smith said he's excited about the direction of the Bucs under coach Dirk Koetter, who hired his former boss last winter. He looks forward to building on the success of the past season.
"While I did have a chance to speak with a few organizations about head coaching opportunities earlier this offseason, it became very clear to me that I am in an ideal situation here with the Buccaneers," Smith said. "For the next couple years, I am fully committed and focused on my role with Dirk and the organization and will not be pursuing head coaching opportunities during this time."
Smith was 66-46 in seven seasons in Atlanta (2008-14), leading the Falcons to two NFC South titles and four playoff berths, including an appearance in the 2012 NFC championship game.
He was fired after going 10-22 over his last two seasons and spent a year out of football before Koetter, one of his former Falcons assistants, hired him last January.
Under Smith's direction, Tampa Bay's defense improved from 26th in the NFL in points allowed in 2015 to 15th this season. The Bucs forced 29 turnovers -- third in the league -- held opponents to a league-low 34.4 percent third-down conversion rate, and finished with 38 sacks -- the club's highest total since 2004.
"In addition to being a great teacher on the field and in the meeting rooms, Mike has consistently been able to get the most out of his players, and that was never more evident than this past season," Koetter said. "The growth and exceptional play of our defense in the second half of the season played a major factor in our success."