Bucs wide receiver trio on pace for franchise first
TAMPA, Fla. - Tom Brady is finding ways to keep all of his starting weapons happy and in the mix. His trio of Mike Evans, Chris Godwin and Antonio Brown are getting equal opportunities. Through the first six games, there are only 11 yards that separate the three in receiving yardage. 
Evans led the group with 420 yards.
"Just the caliber of players we are – we're always trying to be open, and we're open a lot so [Brady] has his pick of the litter," said Mike Evans. "Our job is just to be as open as possible and he makes great reads and finds us."
Each one of the Bucs' triple options brings unique abilities. Evans is the big target with a huge catch radius, Godwin makes the tough physical catches and is an incredible blocker, and Antonio Brown is a game-changer with the highest average per catch among the three.
"I think AB is quicker and faster," explained Arians. "His change-of-direction is unbelievable at the top of a route. It always has been. So yeah, I think that, the run after the catch and again, great hands."
"He's one of the best receivers to ever play the game," commented Evans. "He can work. I think he's 33 years old, he never gets tired, he just runs his routes full speed every time. He helps the young guys out a lot. He's been a huge addition for us and I look for him to keep making plays."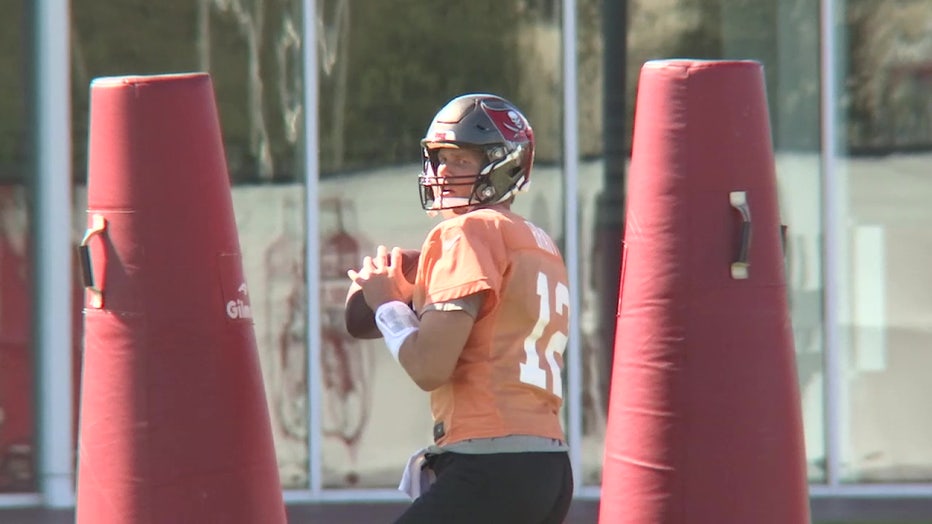 The Bucs' trio of superstar receivers are on pace to do something very special this season. All three could eclipse the 1,000-yard mark. That's never happened with the Bucs franchise. In fact, it's a rarity in the NFL – happening only five times, the last occurring with the Arizona Cardinals in 2008.
Brown has already missed a game and sprained his ankle against the Eagles, but he's still on pace to reach the milestone averaging a team-best 83.6 yards per game.
"Yeah, it would be awesome," stated Arians. "Had it close one time but had two 1,000-yard receivers and a 1,000-yard rusher. It'd be nice, good for all three of those guys. It's going to be hard if we miss games, but hopefully, we have everybody ready to go."