Cook runs for 2 TDs, Jaguars beat Buccaneers 25-10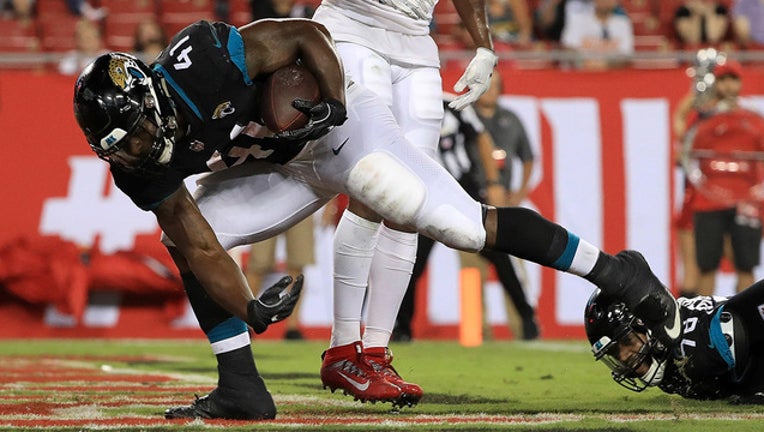 article
TAMPA, Fla. (AP) - Fourth-stringer Tim Cook ran for a pair of second-half touchdowns, and Carroll Phillips returned a fumble for another TD to help the Jacksonville Jaguars close the NFL preseason with a 25-10 victory over the Tampa Bay Buccaneers.
Cook scored on runs of 1 and 3 yards, while Phillips picked up a fumble by rookie quarterback Austin Allen and ran it back 28 yards during a 19-point third quarter that turned a 10-3 halftime deficit into a 12-point lead.
Regulars for both teams sat out the finale Thursday night in mostly empty Raymond James Stadium. A total of 34 players did not dress for the Jaguars, including every starter on offense and defense.
Tampa Bay's starters had the night off, too, as did suspended quarterback Jameis Winston, who must sit out the first three games of the regular season for violating the league's personal conduct policy.
Winston had a sharp preseason, completing 73 percent of his passes for 388 yards, three touchdowns and no interceptions. He will be eligible to return to practice and play in Week 4, when Tampa Bay travels to Chicago.
Ryan Fitzpatrick will fill in as the starter, with Ryan Griffin backing up the 14th-year pro, one of just four players in NFL history who've thrown TD passes for seven franchises.
The Jaguars, meanwhile, will head into their season opener against the New York Giants with heightened expectations after going 10-6, winning the AFC South and coming within one victory of reaching the Super Bowl last winter.
With starter Blake Bortles sitting Thursday night, Cody Kessler and rookie Tanner Lee split playing time at quarterback for Jacksonville.
Griffin, a fifth-year pro who has yet to take a snap in a regular-season game, completed 17 of 27 passes for 151 yards and one TD in the opening half for Tampa Bay. Rookie Justin Watson scored the Bucs' lone touchdown on a 2-yard reception in the first quarter.
NATIONAL ANTHEM
Players on both sidelines remained standing for the national anthem after observing a moment of silence in remembrance of the victims of last weekend's shooting during a video game tournament shooting in Jacksonville.
INJURIES
Jaguars: None announced.
Buccaneers: CB Amari Coleman left in the second half and was being evaluated for a concussion.
NEXT UP
Jaguars: Season opener at New York Giants on Sept. 9
Buccaneers: Begin three-game stretch without Winston, opening season at New Orleans on Sept. 9.
___
More AP NFL: https://apnews.com/tag/NFL and https://twitter.com/AP_NFL