Golden anniversary: Kiffin enters 50th year of coaching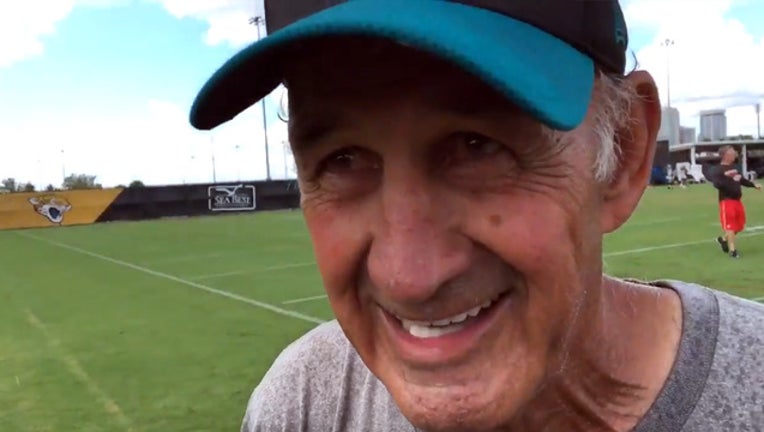 article
JACKSONVILLE (AP) - Monte Kiffin didn't handle retirement very well.  No golfing. No fishing. Not even some leisurely shuffleboard.
"You can only go on so many walks with your wife on the beach," Kiffin said.
So the 76-year-old Kiffin got back into coaching after a one-year hiatus and is helping Jacksonville Jaguars coach Gus Bradley revamp one of the worst defenses in the NFL. Kiffin isn't calling plays or working with a specific position group. He's merely a defensive assistant, but probably the most well-respected one in the league.
He's entering his 29th NFL season, a career that includes stops in Green Bay, Buffalo, Minnesota, New York, New Orleans, Tampa Bay, Dallas and Jacksonville. He has 21 years of coaching at the collegiate level, a resume that began at his alma mater, Nebraska, in 1966.
So this is Kiffin's golden anniversary.
It might also be his most enjoyable season after spending a year somewhat removed from the game.
"I'm really having a lot of fun," Kiffin said. "But having fun, you've got to win, you know? You want to win. Like I told Gus, 'I didn't come here to be one-and-done now. Let's go.'"
The Jaguars seemingly have all the pieces in place for a quick turnaround, with defensive end Dante Fowler returning from knee injury, defensive tackle Malik Jackson and safety Tashaun Gipson filling huge needs in free agency, and cornerback Prince Amukamara providing veteran leadership. Throw in the team's top three draft picks — cornerback Jalen Ramsey, linebacker Myles Jack and defensive end Yannick Ngakoue — and Jacksonville believes it has assembled a formidable unit for years to come.
For Kiffin, seeing it come together elicits memories of his early years in Tampa Bay. The Buccaneers drafted Hall of Famers Warren Sapp and Derrick Brooks in 1995, the year before coach Tony Dungy hired Kiffin. The Bucs made the playoffs in four of Dungy's six seasons, including advancing to the 1999 NFC championship game.
"That's what I see happening here," said Kiffin, who will sort of be reunited with the Bucs this week when his former team travels to Jacksonville for two days of practice. "It could be like the Bucs. I don't know that it will be. We have to go out and do it on the field."
Kiffin's presence should help. Bradley initially brought Kiffin in as a consultant in January while he interviewed candidates to replace fired defensive coordinator Bob Babich. Kiffin stuck around to help during free agency and then got a call from Bradley in March asking him to join Jacksonville's staff full-time.
Kiffin didn't hesitate.
Although he stayed busy in his year off — he helped a couple high school coaches in the Tampa Bay area and spent a week visiting the Seattle Seahawks and two weeks helping the Pittsburgh Steelers — it wasn't the same as being on the field every day. Kiffin longed for football so much that he spent three days a week hunkered down in a back room of "Monday Night Football" analyst Jon Gruden's Tampa office just watching game tape.
"Basically it was just time for me to study and stay up," Kiffin said. "I was hoping I was going to get back in. I was going to get back in somehow. I didn't know what I was going to do."
Bradley insists Kiffin isn't on the payroll as a favor even though Kiffin helped Bradley get his first NFL job with Tampa Bay in 2006 and told Pete Carroll to hire Bradley as Seattle's defensive coordinator in 2010.
Bradley wanted Kiffin around, in part, to be a sounding board for young players and first-time NFL defensive coordinator Todd Wash. So Wash bounces idea off Kiffin, as do Bradley and offensive coordinator Greg Olson.
"The big thing with him was what was going to be his exact role," Bradley said. "Once we came up with an idea of his role, was he going to accept that role? It's gone above and beyond. It's better than I imagined. He's really doing everything he can to help this defense, this organization, to get better and wants nothing in return. It's really cool for him, and he adds tremendous value."
Added veteran linebacker Paul Posluszny: "He's a Hall of Fame guy and his insight is always so specific and so exact."
Kiffin's retirement plan was much less precise, partly because he doesn't have many hobbies. Football is his life, so much so that his wife is walking the beaches alone near Tampa while he works about 200 miles away in Jacksonville.
"I just love coaching," Kiffin said. "Just to be back coaching. I'm not here to run this show or be the coordinator. Really, I came here to help young coaches and young players get better. I've been there, done it, seen it. I'm just here to help everyone else."