Grabner scores 3 to lead Rangers in 6-1 win over Lightning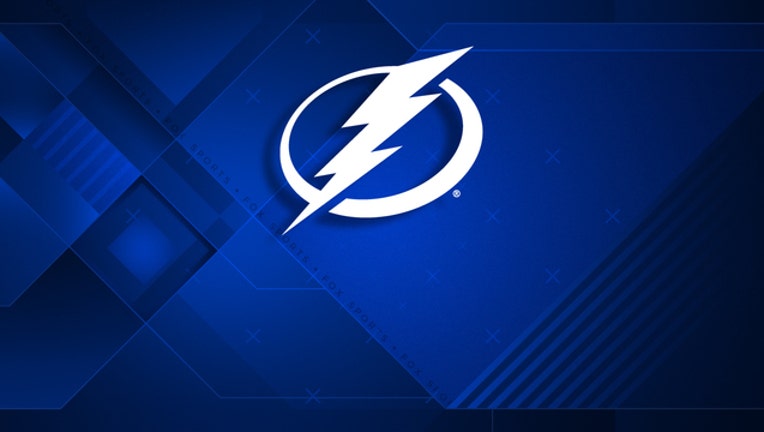 NEW YORK (AP) - Michael Grabner wasn't being greedy. He and linemates Kevin Hayes and J.T. Miller were just dominant.
Grabner scored three goals, Miller had a goal and two assists, and Hayes added three assists to lead the New York Rangers to a 6-1 victory over the Tampa Bay Lightning on Sunday night.
"We had a a lot of chances as a line and could, maybe, have had a couple more," Grabner said.
"They're great players," Grabner said of his linemates. "They have a lot of skill so I just tried to open up some room for them. Use my speed and it just worked tonight."
Rick Nash and Jimmy Vesey also scored to help the Rangers win for the fourth time in five games. Antti Raanta stopped 31 shots.
"I felt good," Raanta said. "I felt like I was seeing the puck (the) whole time and I was in the right position."
Nash, Grabner and Vesey scored in a span of 2 minutes, 19 seconds midway through the second period to give the Rangers a 3-0 lead. Miller scored late in the second and Grabner added two more in the third to make it 6-0 with his third career hat trick.
"We kept coming in waves," Rangers defenseman Dan Girardi said. "Line after line, 'D' pair after 'D' pair, just kept doing the same thing."
Steven Stamkos spoiled Raanta's shutout bid with about 3 1/2 minutes remaining, and Ben Bishop finished with 31 saves as the Lightning lost their third straight.
"We're concerned with the way we're playing right now," Bishop said. "It's not something we can't fix. It's just about watching the tape and getting better from it; fixing it now. You don't want to stay in this rut."
After a scoreless first period in which New York outshot Tampa Bay 16-10, the Rangers scored in a flurry in the second.
Nash broke through at 4:45 with his fourth of the season. Nash was sprung for a semi-breakaway by Nick Holden's pass up the middle to start the sequence, and the New York winger snapped a shot which beat Bishop glove side.
Grabner increased the lead with a one-timer off Brady Skjei's cross-ice feed as Miller screened Bishop at 6:42. On the play, Miller collided with with Bishop, which prompted Lightning coach Jon Cooper to use his coach's challenge in order to see if there was goaltender interference. However, the video review showed Miller was bumped into Bishop by Valtteri Filppula.
"I thought the puck was pretty much already in the net by the time he pushed me," Miller said. "I didn't think the goalie was going to be able to get over there."
Just 22 seconds later, Vesey scored his team-leading fifth of the season to push the advantage to 3-0.
Miller extended the Rangers' lead with a tap-in with 1:50 left in the period.
"We put a few away in the second," New York coach Alain Vigneault said. "There's no doubt the speed and the pace was a factor."
Grabner's breakaway goal midway through the third increased the lead to 5-0, and his tap-in off a pass from Hayes with 5:13 left capped his first hat trick since signing with the Rangers in the offseason. It was also his first since Feb. 13, 2011, while with the Islanders.
"Breakaway after breakaway after 2-on-1," Cooper said. "Not even the best goalies in the world are going to bail you out of that."
All of New York's goals came at even strength. The Rangers were 0 for 5 on the power play, and Tampa Bay went 1 for 4.
NOTES: Tampa Bay RW Ryan Callahan made his season debut. Callahan, a former Ranger, had missed the Lightning's first eight games as he recuperated from offseason surgery on a torn labral in his right hip. ... Nikita Kucherov also played after missing Tampa Bay's last game, a 3-1 loss to New Jersey on Saturday night, with an upper body injury sustained in the first period of the Lightning's 3-1 loss to the Canadiens in Montreal Thursday night. ... Prior to the game, Tampa Bay announced C Cory Conacher had been sent down to AHL Syracuse. Conacher had played in one NHL game this season, Saturday's loss at the Devils. ... The Lightning scratched D Matt Taormina and RW J.T. Brown. . Rangers LW Chris Kreider missed his fourth straight game with neck spasms. . New York scratched D Adam Clendening.
UP NEXT
Lightning: At the New York Islanders on Tuesday night.
Rangers: Host St. Louis on Tuesday night.