Lakeland Christian 7th-grader leads the way for Vikings softball
LAKELAND, Fla. - The energy and excitement you'll see from the Lakeland Christian School softball team, day-in and day-out, is actually a new feeling for the Vikings.
"It's about having fun and enjoying what they have always loved to do and bringing the love of the game back," said Vikings head coach Jessi Ray. 
A couple of years ago, the Vikings were in the middle of a rough patch, winning just three games in two years. 
"It sort of felt like we were at the bottom," said senior outfielder Emmylou Varnum. "We obviously weren't winning many games and just [weren't] together yet."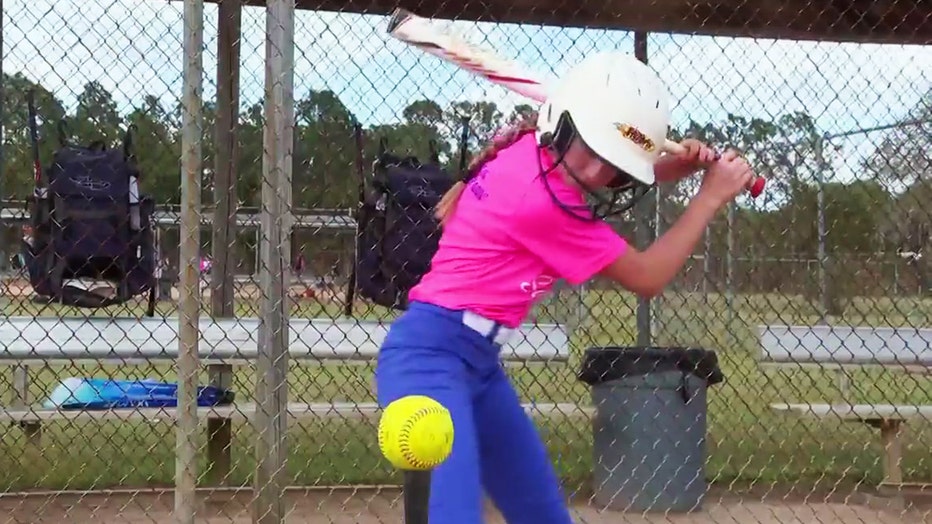 They were once the victims of the mercy rule in high school softball. Now, it is the Vikings who are showing mercy on the scoreboard. 
The Vikings are a perfect 7-0 to start the season. 
"To make that change is just unbelievable," said Varnum. 
It's not a highly recruited, five-star senior leading the Vikings to a quick turnaround. It's their third baseman, Paityn Donalson.
"As a 7th-grader, that's pretty impressive," said Ray. 
Yes, you read that correctly. Paityn is the team's starting third baseman and isn't even in high school, yet. 
"I wanted to play on varsity just because I knew I was good enough to make varsity. I thought I was good enough to make it," said Paityn. 
At just 13 years old, (12 years old when the season started), Paityn has proven that she is, indeed, good enough to play varsity softball. 
Currently, Paityn leads the Vikings in batting average, on-base percentage, hits, runs and stolen bases. 
"I had to prove to myself that I was good enough to play on this team," she said. 
Despite playing with and against girls that are four and five years older, Paityn hasn't backed down in the field or at the plate. 
"I'm really short compared to some of the girls that I play against. Big girls don't intimidate me because I play against older girls already," Paityn said.
The 13-year-old third baseman's .769 batting average and .885 on-base percentage, meanwhile, rank sixth and seventh in the state, respectively. 
"Remember that name," said Ray. "Remember that name because she is going to be something someday."