Lightning take on Maple Leafs one more time before faceoff in the playoffs next week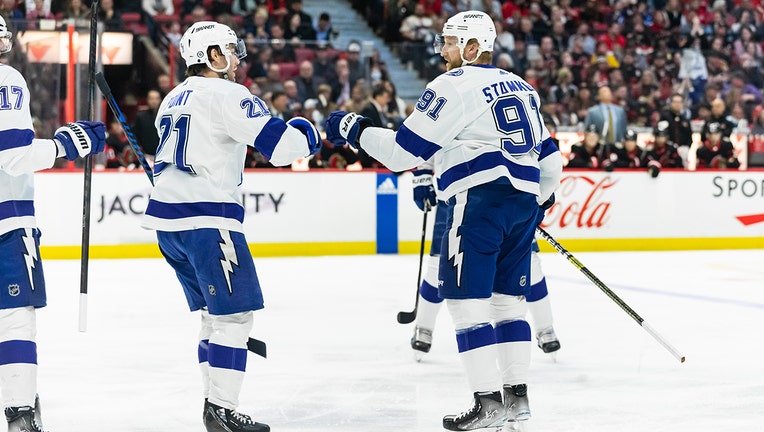 article
TAMPA, Fla. - It's prelude to the playoffs. The Tampa Bay Lightning are taking on the Toronto Maple Leafs one more time before facing off in a series that matters. 
So what's the Lightning's game plan? 
"It's Game 81," said Lightning head coach Jon Cooper. "Is it more than Game 81? Sure it is. Is either team going to be tipping their hands? Probably not. I think paramount to both team is just get out of the game healthy."
PREVIOUS: Lightning fall to the Senators 7-4 in Ottawa
The playoff against the Maple Leafs has been set in stone for weeks, but the Lightning still have to go through the motions of finishing the final two games of the regular season.
"We're hoping to get the playoffs started as soon as possible," laughed Steven Stamkos.
Since locking up a playoff spot the Lightning have lost three games and badly outscored 19 to 8. So do the Lightning need to get their game together before dropping the puck on the postseason, or can this team just simply flip the switch and rely on the Stanley Cup pedigree?
"I think we've talked a lot about that, because we haven't been playing well," said Stamkos. "So there's no other answer to give to be honest. We want to finish these last two games off the right way."
SPORTS: Bucs running back Rachaad White ready to take on 'RB1' role
While the outcome of this game doesn't really matter, there is some significance to this matchup. Stamkos is going to be honored for the third time this season for reaching a milestone. 
He played in 1,000 game last Thursday against the Islanders in New York and Brayden Point needs just one goal to reach the 50 goal milestone in a season.
"We've talked a little bit about how special that number is in this league," said Stamkos. "We'd love to see him do it."