Bucs running back Rachaad White ready to take on 'RB1' role
TAMPA, Fla. - Rachaad White is preparing himself for his second year in the NFL and a bigger role with the Tampa Bay Buccaneers. He's packed on eight more pounds of muscle so far this off-season. 
"Just take that next step," White told FOX 13 Sports. "Not just being the best football player that I can be in year two, but just being a great leader. I always pride myself in being a great human being, a great leader. Just making everybody around me better. That's what I consider a great leader is. If you can build other people up and make others around you and their game better, to me then that's a great leader."
White flew his longtime trainer Donnie Bills to Tampa to get him ready for the Bucs off-season workouts that are about to start. With the departure of Leonard Fournette, White will be handed the opportunity to be the Bucs' No. 1 running back.
SPORTS: Baker Mayfield era begins in Tampa Bay
"It's a big transition," said White. "Obviously it's a new transition, especially for the past three years. I think a lot of guys that we have on the team are still vets are ready for it. I'm pretty sure they are going to lead and a lot of young guys want this opportunity. It will be a lot of young guys that will get a chance and things like that. As in me still, like you said to be RB1. The opportunity to be RB1 and things like that and take that next step where you have been wanting to do your whole life and dream about your whole life. Now it's here. It's up to you what you do with your opportunity."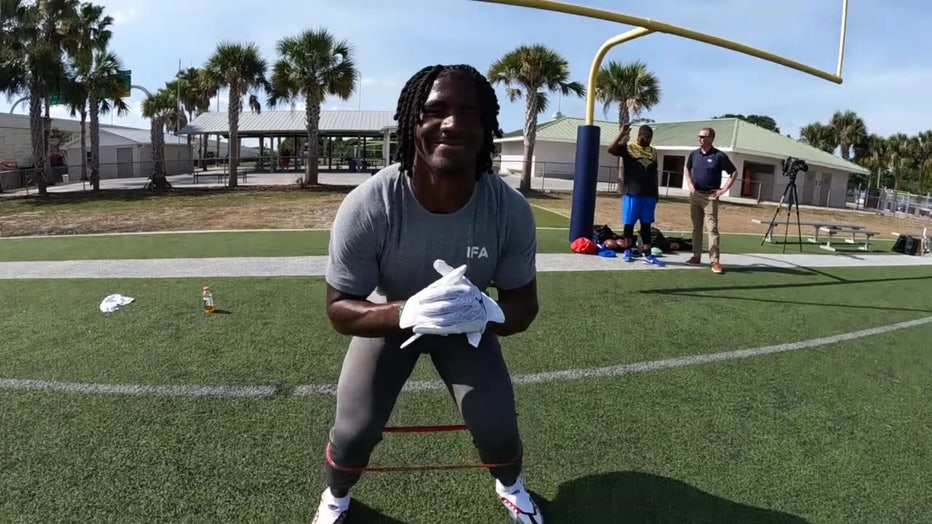 White will be wearing a new number this season – a number to match his new role.
"I already had it in my mind that I wanted to go back to a single digit after my rookie year," said White. "I did want No. 3, but at the time, Succop was still my guy. Still on the roster. So No. 1 was available. Thought it was a new beginning. A new chapter in my life. I wanted to go with No. 1."
White has made numerous appearances this off-season around the Tampa Bay community including taking some swings with the Tampa Bay Rays. White is embracing the opportunity and his new home.
OFF-SEASON: Bucs' new offensive coordinator Dave Canales looks to install system in Tampa Bay
"When I'm out and about people walk up to me, man that's what I'm all about," said White. "That's a big thing that, and I pride myself on. Just being out in the community. When you're out and about I just tell everybody, encourage them. You can come up and speak. Don't be too scared or to be too shy. I'm a regular human being like everybody else."
White is working on improving his rookie numbers, knowing he'll be getting a lot more runs and receptions. He showed his potential against the Seattle Seahawks in Germany with a season high 105 yards rushing, which included an "angry run." Delivering a devastating stiff to Quandre Diggs, earning White a nomination for run of the year at the NFL Honors. He'd like to produce more of those runs this season.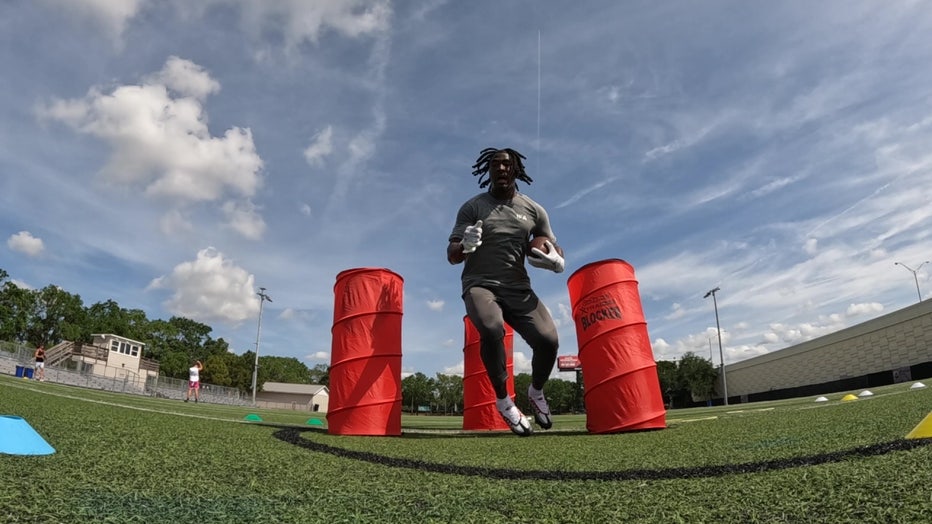 "I'm working on a lot of different movement, different things," said White. "Just be more explosive, accelerating more. Obviously a lot of reaction, because I feel like that's what running back is all about you have to react. I have to react to blocks, things like that. Certain things that make guys jobs around me easier. Obviously when they are blocking. That's the biggest thing. Just get back to who I am, breaking tackles and breaking long runs."
White is heading into his second season in the NFL with two driving forces pushing him. He wants to be great. He wants to put together a Hall of Fame career, but his biggest inspiration is his 2-year-old daughter Nevaeh, which is Heaven spelled backwards. She's his heartbeat.
MORE: From Tampa Bay to 'Champa' Bay: How Tom Brady forever changed sports in Florida
"My daughter, yeah she's everything to me for sure," smiled White. "I love her to death. I can't stop smiling thinking about her right now. You said that and an image pops up in my head right now over her. She's just funny. She's just growing. She teaches me a lot. A lot of patience. A lot of growth as a man. Heart, things like that. A lot of just caring and understanding. "
"Sometimes as a man we're taught to be so tough and be so strong, but my daughter teaches me to be..my feeling, my emotions side to come out. Just be loving. Just be there for her, just caring. It just teaches how a man should always treat a woman in life."
For White, year two is all about growth.