Newton, Carolina defense lead Panthers past Buccaneers 17-3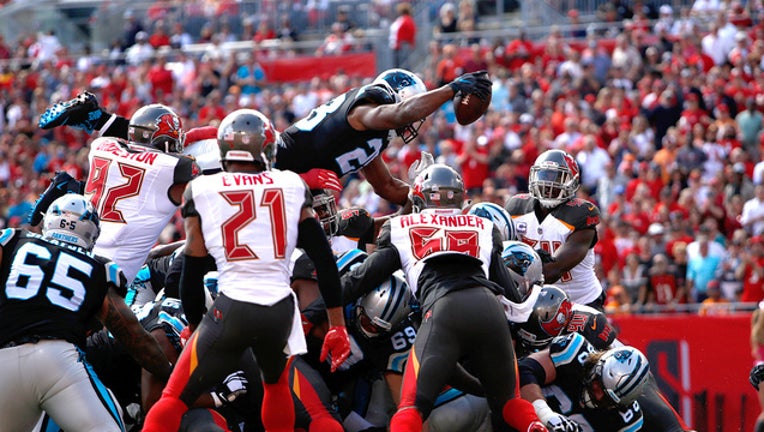 article
TAMPA, Fla. (AP) - One day, Julius Peppers plans to sit down and reflect on his career as one of the NFL's premier pass rushers.
Right now, he's too busy helping the Carolina Panthers re-establish themselves as one of the league's top defenses.
The Panthers (5-3) shut down the Tampa Bay Buccaneers 17-3 Sunday, sacking Jameis Winston three times, forcing three turnovers and not allowing a touchdown on defense for the second straight week.
Peppers moved ahead of Hall of Famer Chris Doleman for fourth place on the career sack list with 151, taking down Winston in the second quarter and forcing a fumble to thwart one of only handful of scoring opportunities for the Bucs (2-5).
"Right now, I'm more excited about us getting a road win because this was really important for the team," Peppers said after Carolina, coming off a 14-point road loss to Chicago , snap a two-game losing streak.
"I'm not trying to diminish the other stuff that happened because that's a big deal too, but more important is what's going on with everybody in this locker room. Everybody contributed today, everybody did their part, and it's a big team win."
Luke Kuechly returned from missing a game with a concussion and had a fourth quarter interception. Mike Adams had a pick to set up Cam Newton's 25-yard TD pass to Kelvin Benjamin, and Mario Addison and Kyle Love joined Peppers in sacking Winston.
"The defense played exceptional," said Newton, who rebounded from a subpar performance against the Bears to play efficiently - throwing for 154 yards with one interception, and leading Carolina with 44 yards rushing.
"They just created a lot of turnovers that we needed as a team, just for the morale, and just played very stingy," Newton added. "Offensively, it took us a while to get going, but we're going to have games like this, and we've just got to find ways to keep pushing forward to will a win."
The Bucs (2-5) have lost four straight, with Winston playing the last two weeks with a sprained AC joint in his throwing shoulder.
"Three turnovers by me, can't win like that especially against a team like them. They have a great defense, but you turn the ball over three times, you're not going to win. You score three points, you're not going to win," Winston said.
Newton led a 17-play TD drive that consumed more than half the opening quarter. The Panthers put the game away in the fourth, intercepting Winston twice and stopping another Tampa Bay possession in Carolina territory on downs.
The Bucs outgained the Panthers 279 yards to 254 yards but failed to score a touchdown in a game for the first time since 2014, the year before Winston's arrival.
"The main thing is the offense isn't scoring points," coach Dirk Koetter said. "We have to score points."
Carolina's defense picked up where it left off in only allowing three points against Chicago, which returned a fumble and interception for the only touchdowns in a 17-3 victory that knocked Carolina out of first place in the NFC South .
The Bucs avoided a shutout with Patrick Murray's 41-field goal in the third quarter.
"They played well, but not well enough for us to have three points," Bucs receiver Mike Evans said. "We beat ourselves more than they beat us, but they played solid."
NOT FLASHY, BUT EFFICIENT
Newton completed 18 of 32 passes with one interception. Jonathan Stewart scored on a 1-yard run in the first quarter and finished with 34 yards on 11 carries.
The Panthers converted five third downs on the 17-play, 82-yard drive that produced Stewart's 1-yard TD.
ALL BY MYSELF
Peppers has 7 ½ sacks. The Bucs, who didn't have any Sunday, has seven as a team - last in the league.
INJURIES
Panthers: None reported during the game.
Buccaneers: Played without starting CBs Brent Grimes (shoulder) and Robert McClain (concussion).
UP NEXT
Panthers: Return home to face division rival Atlanta, a matchup of the last two teams to represent the NFC in the Super Bowl.
Buccaneers: Play on the road for the third time in four weeks, traveling to New Orleans.
___
For more NFL coverage: http://www.pro32.ap.org and http://www.twitter.com/AP_NFL.