Now a middle reliever, Robertson helps Yanks top Rays 5-1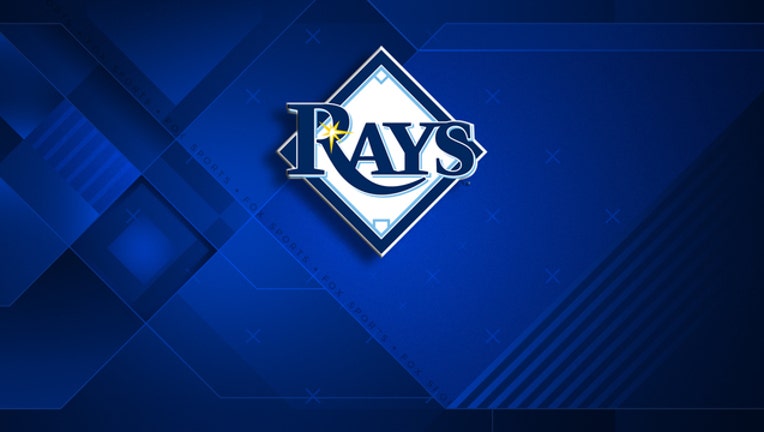 NEW YORK (AP) - Accustomed to entering in the ninth inning, David Robertson heard the bullpen phone ring in the fourth and knew he might be replacing CC Sabathia.
An accomplished closer with 132 saves, Robertson relieved in the fifth and pitched a career-long 2 2/3 innings that helped the New York Yankees beat the Tampa Bay Rays 5-1 on Monday night in the start of a series moved from Florida to Citi Field because of Hurricane Irma.
"I don't care when I pitch," said the 32-year-old right-hander, reacquired by the Yankees from the Chicago White Sox in July. "I'll do whatever it takes to get us back in the playoffs and gives us a chance to get another ring."
Todd Frazier capitalized on Trevor Plouffe's two-out error with a three-run homer in a five-run fourth inning , and Jacoby Ellsbury broke Pete Rose's major league record by reaching base on catcher's interference for the 30th time.
Opening a stretch that has 17 of their final 20 games in New York, the Yankees closed within three games of Boston in the AL East and opened a four-game lead over Minnesota for the top AL wild card.
Sabathia allowed one run and six hits in 4 1/3 innings and was removed with two on and Evan Longoria at the plate.
"He's hitting about .900 off me," Sabathia said.
Actually, only .421 with eight homers in 76 at-bats before Longoria grounded out twice in the first three innings.
"He got him twice, and I didn't feel like pressing my luck," Yankees manager Joe Girardi said.
Longoria took a called third strike from Roberson (8-2) and Lucas Duda struck out swinging.
"I kind of felt like that was the game in a sense right there," Girardi said.
Robertson took over as Yankees closer in 2014 following Mariano Rivera's retirement, and then left as a free agent to sign a $64 million, four-year deal with Chicago where he had 84 saves in 2 1/2 seasons.
"I came in here with an open mind I knew once I was traded that I was going to be a piece that could be used at any point, and I have no problem with that," Robertson said.
Dellin Betances pitched the eighth , and Aroldis Chapman finished.
Ellsbury set an obscure major league record on his 34th birthday, nicking Wilson Ramos' mitt on a slow curveball from Jake Odorizzi (8-8). Ellsbury set the season mark with 12 last year and has four this season. He reached the record in 5,308 plate appearance, about one-third of Rose's 15,890.
After starting with 6 1/3 hitless innings against Minnesota last week, Jake Odorizzi (8-8) did not allow a hit until the fourth, when he threw just 15 of 51 pitches for strikes and was chased with two outs.
Ahead 1-0 on Adeiny Hechavarria's RBI triple in the second, Odorizzi walked Aaron Judge on four pitches leading off the fourth. Judge took third when Gary Sanchez singled on a full-count offering, and Didi Gregorius hit a sacrifice fly . After Starling Castro struck out, Matt Holliday hit a grounder to third, and Plouffe tried for a backhand grab but let the ball bounce under his glove and toward the left-field corner. The slow-footed Sanchez scored from first with the go-ahead run.
Ellsbury reached on the catcher's interference, and Frazier lined a full-count slider off the front of the second deck in left for a 5-1 lead, his sixth homer in 20 games at Citi Field.
"We're clicking right now at the right time," Frazier said.
WHOOPS
Sanchez allowed his 15th passed ball, tying the Los Angeles Dodgers' Yasmani Grandal for the major league lead.
DRESS FOR SUCCESS
When the Yankees traveled home from Texas, they had pillows and blankets with the face of Frazier. Sabathia arranged to purchase the apparel after being told about it by equipment manager Rob Cucuzza.
DUGOUT BUDDY
A praying mantis perched on a cup atop a railing in the Yankees dugout during the middle innings.
TRAINER'S ROOM
Yankees: 1B Greg Bird was scratched because of back spasms he started to feel Sunday. ... OF Clint Frazier, sidelined since Aug. 9 by a left oblique strain, was activated from the DL. Girardi said Frazier will start Tuesday and possibly Wednesday.
Rays: RHP Nathan Eovaldi, coming back from Tommy John surgery in August 2016, struck out two in a hitless inning for Double-A Montgomery on Saturday in the Southern League playoffs. LHP Xavier Cedeno, returning from a forearm injury, followed with a one-hit second. Rays manager Kevin Cash said Eovaldi will next pitch for Triple-A Durham in the playoffs or the instructional league. "He's a huge part of our season next year," Cash said.
UP NEXT
RHP Sonny Gray (9-9) starts for the Yankees on Tuesday and LHP Blake Snell (3-6) for the Rays.
___
More AP baseball: https://apnews.com/tag/MLBbaseball