Rays' Glasnow has unique perspective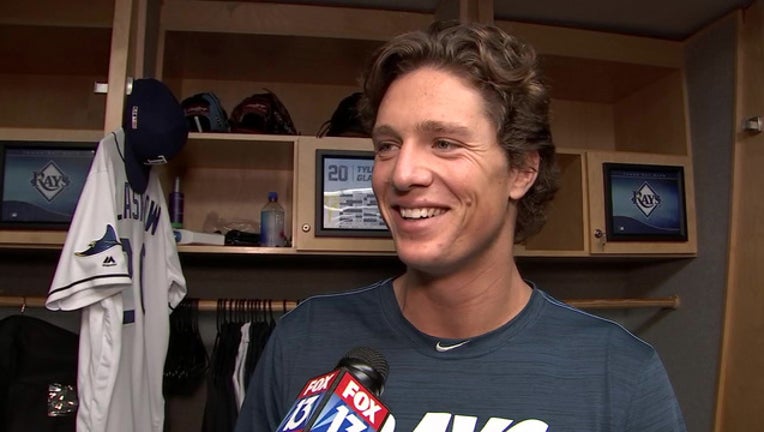 ST. PETERSBURG, Fla. (FOX 13) - Rays pitcher Tyler Glasnow comes to the field with a passion for pitching and a zest for life. He's an interesting character, a rare athlete who, at 6-foot-8, can pull off a backflip. He loves traveling the world alone and his one escape from the game is a game of online chess.
"It's more so because I'm bored," smiled Glasnow. "I don't have the attention span for video games. I just play chess."
So is there a chance you could find yourself online going to head to head with the Rays' tallest player? Does he sign in under his famous name?
"When I first created an account I did," laughed Glasnow. "Then people are like, 'Are you Tyler Glasnow?' I'm like, 'No, I'm changing my name.' I don't want people knowing how good or bad I am at chess."
Glasnow's offseason is over. His full attention is now on becoming the Rays' next great pitcher. He closely watched Blake Snell's rise to fame from the minors to the major league stage. Snell is his good friend and a pitching peer. 
"I've been able to watch him just mature and grow not only as a person, but a player. Kind of like from afar. I didn't really know him at all, but just going up through the levels with him, just watching him get better and better every year. Just getting traded over here and talking to him as far as mentality goes, he really does have it all," Glasnow continued. "It's nice he's right next to me. We talk about the game all day long and it's a good locker buddy to have, for sure."
Glasnow doesn't take for granted the position he's in; he embraces it. 
"All of us have a unique opportunity to play a game for a living," he added. "So if you don't come and try to soak it all up, I think you're doing yourself a disservice."