Stamkos' 4 points lead Lightning over Maple Leafs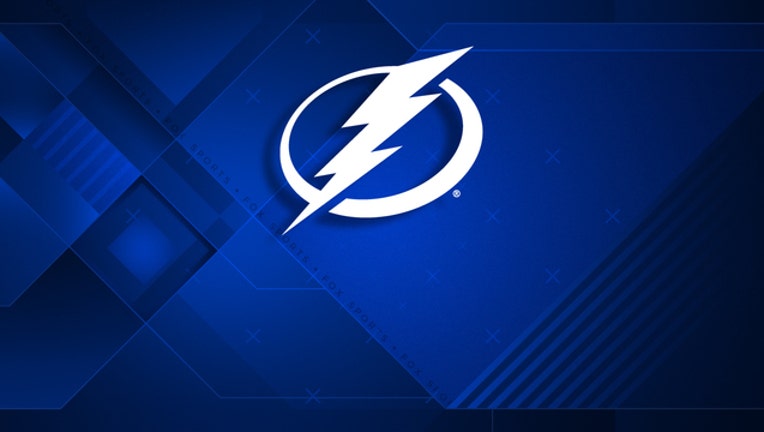 TORONTO (AP) - Toronto Maple Leafs coach Mike Babcock briefly considered pulling Frederik Andersen in what was ultimately the worst game of his NHL career, a 7-3 loss to the Tampa Bay Lightning.
Andersen gave up a career-high seven goals on only 24 shots Tuesday night, the third time in his first five starts the 27-year-old has allowed at least five goals and fourth time he's allowed four or more. Andersen is sporting an unseemly .851 save percentage so far this season.
"I felt like everything just bounced the wrong way and (I) wasn't able to make any saves when we needed to," Andersen said.
Tampa Bay struck for four goals on the first 11 shots, including two by Steven Stamkos who matched a career-high with four points. Still Babcock stuck with his struggling No. 1, whom the Leafs acquired in a summer trade with Anaheim.
"He's my guy, I want him to play," Babcock said after Toronto's fifth loss in six games to start the season. "So I could pull him and then say 'OK I showed you!' But what did I show him? To me dig in there with the rest of the guys, make the next save and give us a chance to come back and win the game. You can't do that sitting on the bench."
Andersen arrived in Toronto with considerable pressure, having signed for five years and $25 million. He was instantly crowned the club's undisputed starting goalie, a position he never held over three seasons with the Ducks.
After the latest defeat, which followed a 5-4 shootout loss in Chicago, Andersen said he was still adjusting to a new team and city with infinitely brighter lights and significantly more attention. He was also trying to rediscover a confidence which has eluded him so far this fall, an injury before training camp foreshadowing a rocky October.
"Definitely an adjustment," he said of the move to Toronto from quieter confines in Anaheim. "But you've just got to keep doing what you're doing, don't try to change too much. I think that's something that I've got to be better at, just play my game and then the results should come."
It didn't take long for Tampa Bay to get to Andersen, Stamkos scoring the game's first goal 79 seconds in.
Andrej Sustr intercepted Auston Matthews' failed pass attempt in the Toronto zone and then found Stamkos alone behind the Leafs defense and though the Lightning's captain lost control of the puck, Leafs defenseman Matt Hunwick inadvertently batted it past his own goaltender.
Stamkos re-signed with the Lightning for eight years and $68 million after flirting briefly with the Leafs ahead of the July 1 signing date.
Killorn upped the Tampa lead to 2-0 six minutes after Stamkos scored.
Stamkos whistled a one-timer past Andersen from the top of the faceoff circle. It was second goal of the game for Stamkos and fifth in six games this season.
The seven-goal shelling eclipsed Andersen's previous career-high of six goals, which came last March, against the Maple Leafs.
"You've just got to challenge yourself to work harder," Andersen said of digging out from the early rut. "That's the only thing to get out of it if you aren't feeling like you're being hit with the puck or seeing the puck; you've got to just work harder to see it."
Babcock stressed his faith in Andersen.
"It hasn't gone as good as he would like it to go," Babcock said. "(But) we're very confident in his ability. We did a lot of work in advance to know what he's capable of doing. He's done it for three years straight.
"It's very important that we support him," the coach added. "But he's got to get to work too and do his part."
Toronto outshot Tampa 13-9 in the first but trailed 3-0.
The Lightning scored their fourth goal on only their 11th shot. Stamkos fired a pass into the slot and the deflected puck eventually made its way to Hedman, who tucked in his first goal this season.
In the second period Peter Holland's shot hit Bishop in the mask. The goaltender fell immediately to the ice and lost teeth on the play. He searched the ice with teammate Brian Boyle, who eventually seemed to locate the lost teeth.
Bishop remained in the game, yielding a late period power-play goal to Nylander. The 20-year-old got his fourth goal and eighth point this season. Nylander, who added a third-period assist, has eight goals and 20 points in his last 18 NHL games and at least a point in five of six games this fall.
Kucherov, Namestnikov and Drouin added third-period goals for Tampa, Van Riemsdyk and Matthews both scored just over a minute apart, but the late rally fell short.
Matthews has 10 points in his first six NHL games, vaulting into first place in the NHL in scoring.
UP NEXT:
Lightning: play at Montreal on Thursday.
Maple Leafs: host Florida on Thursday.