Turnovers doom Bucs in 11th straight home loss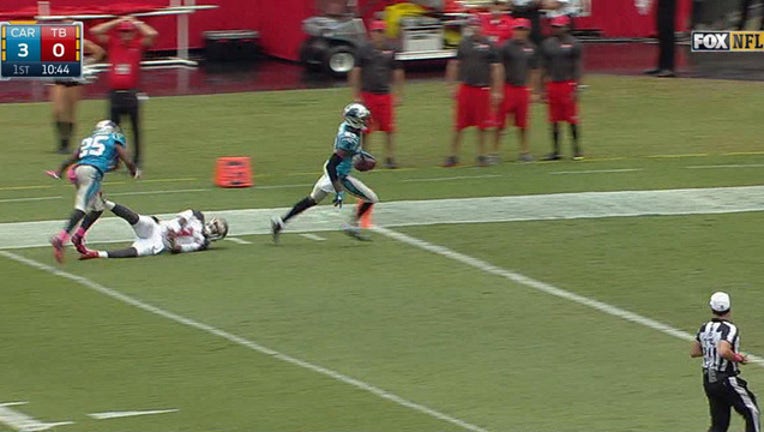 TAMPA, Fla. (AP) — Despite having three touchdown drives of 80 yards or more and outgaining Carolina by 167 yards Sunday, the Tampa Bay Buccaneers didn't come close to beating the Panthers.
"You can't win a football game with five turnovers," explained rookie quarterback Jameis Winston, who fumbled a snap and threw four interceptions in the 37-23 loss that dropped the Buccaneers to 1-3.
The Panthers (4-0) converted all of the turnovers into points and led all the way, handing the Bucs their 11th straight loss at home.
"All losses are disappointing," said Bucs coach Lovie Smith, "but you shouldn't be getting beat that way."
Josh Norman returned one of the interceptions for a touchdown, and Cam Newton tossed a pair of TD passes to Ted Ginn, Jr. Ed Dickson also returned a fumble 57 yards for a score.
Winston threw for a career-high 287 yards and two touchdowns, but Norman picked off the young quarterback's first pass of the day and returned it 46 yards for an early 10-0 lead.
Newton threw scoring passes of 6 and 12 yards to Ginn. He had a modest day, statistically, with 124 yards passing and 51 more rushing, but the fifth-year pro didn't throw any interceptions and had just one turnover on a day when play was affected by heavy rain.
A week after making a game-saving interception in the end zone against New Orleans, Norman also returned a second interception 34 yards to set up a Carolina TD.
According to the NFL, the cornerback became the first Carolina player to return a pair of interception for TDs in the first four weeks of the season. He's the first to do it in the league in the past five years.
"When you throw it straight to him, they're going to catch it," Winston said. "So it's not like I got baited. I just threw it straight to him. Bad decision."
The Panthers improved to 4-0 for the first time since 2003, when they began with five straight victories and went on to appear in the Super Bowl. The Bucs have lost five straight in the NFC South rivalry.
Winston, the No. 1 overall pick in the draft, completed 26 of 43 passes and was sacked twice. He threw TD passes of 10 yards to Charles Sims and 7 yards to Vincent Jackson, who had 10 receptions for 147 yards.
Doug Martin rushed for 106 yards and one TD for the Bucs.
Rookie Kyle Brindza had another tough day kicking for Tampa Bay. He missed three field goals and an extra point during last week's 10-point loss at Houston and missed two more field goals and an extra point against Carolina.
After giving Brindza a strong statement of support last week, Smith softened his endorsement Sunday.
"We're not going to start kicking people off in the press conference after the game," he said. "I'm disappointed in Kyle's play today; we have to do a better job with extra points, with field goals when we need 'em. Those are critical parts of the game; we need to get more production from there."
It was the second time in four weeks that Winston's first pass of the day was picked off and returned for a touchdown. His fumbled snap on the second play of the game set up an early Carolina field goal, and Winston's second interception — on a tipped ball — led to Newton's 6-yard TD throw to Ginn for a 17-3 Carolina lead.
The Bucs drove 80 yards in 13 plays to trim their deficit to 17-10 on Martin's 5-yard TD run. And Winston moved them into position to pull even closer by halftime, but Brindza's 29-yard field goal attempt hit the right upright and bounced away.
NOTES: Bucs career TD leader Mike Alstott was inducted into the team's Ring of Honor at halftime. ... Jonathan Stewart rushed for 50 yards on 10 carries.
___
AP NFL website: www.pro32.ap.org and http://twitter.com/AP_NFL