Wild-card Rays lose 5th straight, fall 6-3 to Red Sox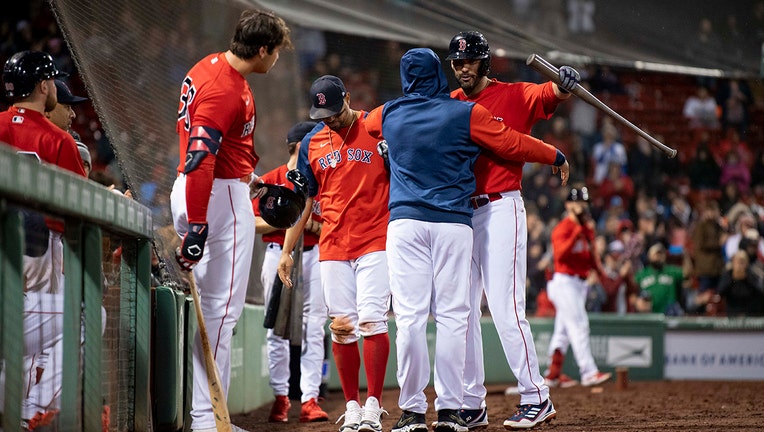 article
BOSTON - The playoff-bound Tampa Bay Rays lost their fifth straight game to finish the regular season, giving up a pair of home runs to J.D. Martinez in a 6-3 loss to last-place Boston on Wednesday.
Xander Bogaerts also had a pair of hits in what could be his final game for the Red Sox. The 30-year-old shortstop, who like Martinez is eligible to become a free agent this offseason,
Despite losing seven of their last eight games, the Rays went 86-76 to finish third in the AL East and will open the best-of-three wild-card round in Cleveland on Friday. Tampa Bay won 100 games last year for its second straight AL East title.
A year after winning 92 games to earn a wild-card berth and reach the ALCS, the Red Sox finished 77-84, 22 games out and in last place in the AL East. The crowd was announced at 26,695 — though fewer than half actually showed up on a cold and rainy day — bringing the team's total to 2,625,089, its lowest in a non-pandemic season since 2000.
Ji-Man Choi had three hits, including a two-run homer in the third, for Tampa Bay. Vidal Bruján cut the Red Sox lead to 4-3 in the seventh with a solo shot that right fielder Alex
Eduard Bazardo earned the win in his first career decision, allowing one hit and one walk in a scoreless fifth after starter Nick Pivetta threw 103 pitches in four innings. Josh Fleming (2-5) gave up both Martinez homers, allowing four runs on eighth hits while striking out four.
Christian Arroyo also had two hits for the Red Sox, singling in a run in the two-run eighth to make it 6-3. Matt Barnes pitched the ninth for his eighth save.
ECK'S GOODBYE
Pitcher-turned-broadcaster Dennis Eckersley
The Hall of Famer had announced that he will be retiring after this season. The video mixed highlights from his 24-year playing career and calls from his time in the NESN TV booth.
"I'm lucky to have had the career I've had, and I'm lucky to have been a part of this," Eckersley said in the pregame show. "Four championships. Got some rings -- I didn't have anything to do with it. But to be around this, to be a part of it, man, we're lucky."
Eckersley, who turned 68 on Monday, was drafted by Cleveland as a California high schooler in 1972 and pitched 24 seasons – winning 20 games as a starter for Boston in 1978 and saving 51 games for Oakland in 1992, when he was the AL MVP and Cy Young winner.
In all, he was 197-171 with a 3.50 ERA for Cleveland, Boston, the Cubs, Oakland and St. Louis. He joined NESN in 2003 and stood out for his
Official scorer Charles Scoggins, a longtime beat writer for the Lowell Sun and Boston BBWAA chapter chairman, also worked his last game. There was cake.
TRAINER'S ROOM
Rays: Placed LHP Colin Poche on the 15-day IL with a right oblique strain and recalled Fleming from the taxi squad.
UP NEXT
Rays: Will face Cleveland in the AL wild-card round, with Game 1 on Friday at 12:07 p.m. ET.
Red Sox: Visit the Atlanta Braves in their spring training Grapefruit League opener on Feb. 25.
___
More AP MLB: https://apnews.com/hub/mlb and https://twitter.com/AP_Sports