With quick hooks, Yanks win 2 of 3 from Rays at Citi Field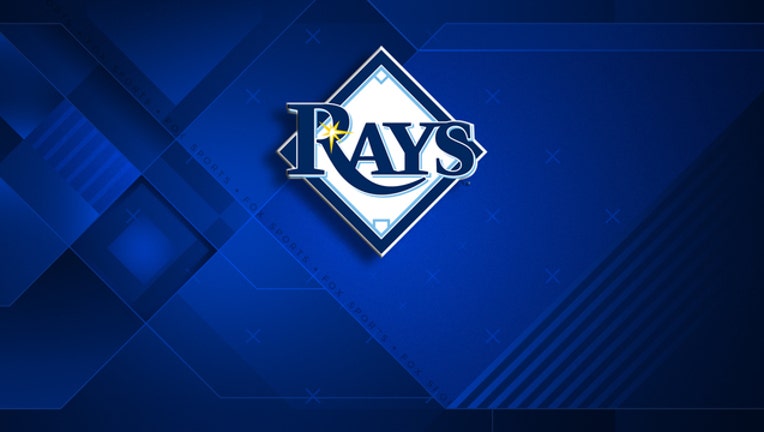 article
NEW YORK (AP) - Given a two-run lead and one out from qualifying for his first win with the Yankees, Jaime Garcia gave up an opposite-field single to left by Lucas Duda on a check swing. Joe Girardi walked to the mound, and Garcia handed him the ball without saying a word, without even looking at him, then muttered while walking to the dugout.
"I don't think I've ever been pleased when the manager takes me out," Garcia said.
Girardi returned to the mound again with two outs in the eighth and replaced Dellin Betances with Aroldis Chapman with a runner on. Betances' head drooped, and he walked to the bench with a glum look.
"This is not about numbers or when you pitch," Girardi said. "It's when we need you, that's when we need you, and do your job."
Chapman and the Yankees held on for a 3-2 win over Tampa Bay on Wednesday to take two of three games in a series moved from Florida to Citi Field because of Hurricane Irma.
New York, which won its fourth straight series, closed within three games of AL East-leading Boston and remained three games ahead of Minnesota for the top AL wild card. The Rays dropped five games behind the Twins, with five other teams to overcome, and returned to Tropicana Field for a truncated five-game homestand starting Friday against Boston.
"I don't know if the right word is relief, but it is nice to finally get home," said loser Chris Archer (9-10). "I don't think anybody's feeling relieved after we lost two of three given our current situation."
Garcia is 0-2 in six starts since the Yankees acquired him from Minnesota. Making his first appearance since Aug. 30, he allowed five hits in 4 2/3 innings, giving up Kevin Kiermaier's leadoff homer in the third.
Girardi did not want Garcia to face Evan Longoria as the potential tying run. Chad Green (5-0) retired the Rays' biggest star on a flyout, then struck out the side in the sixth.
"June I probably would have left him, and July probably would have left him in. But you start to get to this point in the season and you have to make some personal sacrifices for the team," Girardi said. "I understand if he's still mad. I'm OK with that."
Girardi had a conversation with Garcia in the dugout when the inning ended.
"I appreciate that from him," Garcia said. "He came up and said it was a tough for him to do that and that I was throwing the ball well."
Girardi took out CC Sabathia after 4 1/3 innings with a 5-1 lead on Monday when Longoria came to the plate with two on.
"I don't ever really take too much in the heat of the moment," Girardi said. "I want competitors."
After Green struck out the side in the sixth, Tommy Kahnle overcame two hits in the seventh with the help of a double play.
Betances allowed Longoria's one-out single in the eighth and struck out Logan Morrison. Girardi thought Chapman matched up better against Steven Souza Jr., and even Chapman was surprised when he entered for his first save of more than three outs since Game 5 of last year's World Series for the Chicago Cubs.
Restored to the closer's role last weekend after a mid-August demotion, Chapman walked Souza and gave up an RBI single to Adeiny Hechavarria that put runners at the corners. Chapman struck out pinch-hitter Wilson Ramos with a 101.9 mph fastball.
He walked Curt Casali leading off the ninth before fanning Brad Miller, Kiermaier and Duda for his 200th save in 225 chances, his 18th save in 22 opportunities this year.
"It's always easier when you win and you try to explain yourself." Girardi said. "I can explain myself if guys need it."
Betances did not speak with media after the game.
New York took a 3-0 lead in the second, when Todd Frazier hit an RBI single and Brett Gardner had a two-run single off Archer, who needed 92 pitches to get 12 outs. Slowed earlier this month by right forearm tightness, Archer dropped to 0-3 in his last four starts.
Wasting opportunities to widen the lead, the Yankees stranded 11 and were 2 for 14 with runners in scoring position.
A pro-Yankees crowd of 13,159 raised the total for the series to 49,510.
"They only had a couple more thousand more Yankee fans than there would be at the Trop," Morrison said. "So it wasn't that big of a deal."
SOUVENIER
Starlin Castro singled to lead off the second, stopping a 0-for-14 slide. When he reached first base, he signaled for the baseball to be thrown in and saved for him.
RAKING
Jacoby Ellsbury singled and walked against Archer and is 22 for 43 (.512) against him.
TRAINER'S ROOM
Yankees: 1B Greg Bird missed his third straight game with a back spasm. Bird said he was available and Girardi said he likely will start Friday.
Rays: RHP Nathan Eovaldi allowed two hits in a scoreless sixth inning for Triple-A Durham in his second minor league appearance following Tommy John surgery. LHP Xavier Cedeno (left forearm tightness) followed and allowed one run and two hits in two-thirds of an inning.
UP NEXT
Yankees: RHP Masahiro Tanaka (11-11) starts Thursday's opener of a four-game series against Baltimore and LHP Wade Miley (8-12).
Rays: After a day off, RHP Matt Andriese (5-3) starts Friday against Boston.
___
More AP baseball: https://apnews.com/tag/MLBbaseball