Disaster SNAP not yet activated in Florida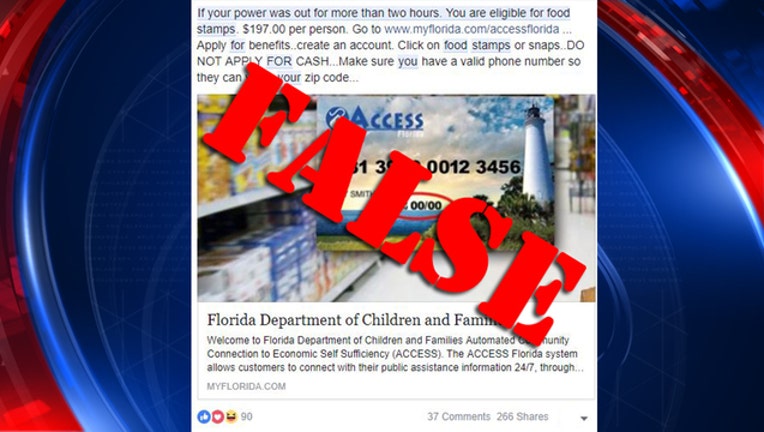 article
TAMPA (FOX 13) - False information is circulating about the Disaster SNAP program, says the Florida Department of Children and Families.
Millions of people across Florida lost power, and therefore, also lost food. Now, DCF is combating false details about the program. Social media posts claims if you lost power for more than two hours during the storm, anyone can get food stamps and you automatically qualify for nearly $200,000 in assistance.
DCF said it's not true, and share the following on the agency's Facebook page:
The national program, Disaster SNAP, is real. It helps low-income families suffering from loss of food caused by a natural disaster. However, the program has not been activated in Florida.
On Friday, DCF said it submitted an initial request to activate Disaster SNAP in counties approved for FEMA Individual Assistance. Activation requests are filed by the state and are based on the percentage of power outages within a county over 72 hours. Other factors include structure damage, flooding damage, and retailer capability. You can monitor ACCESS Florida's website for updates.