Hurricane Irma sandbag disposal ideas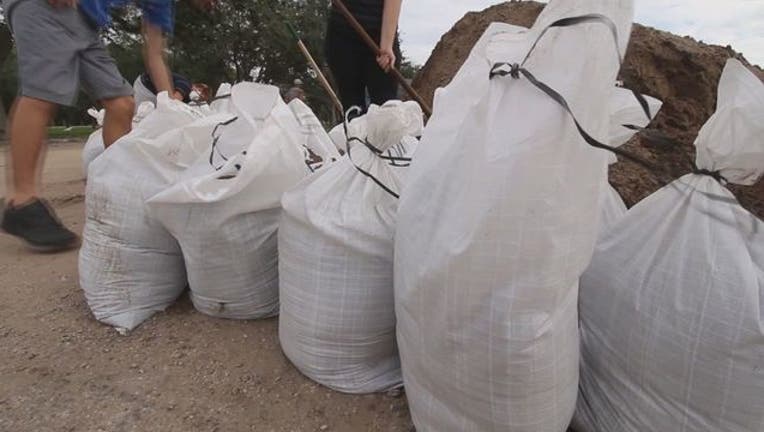 article
TAMPA (FOX 13) - Some parts of Tampa Bay still face localized flooding, but for those who aren't, they may be wondering what to do with their sandbags.

Officials are encouraging those residents to recycle or dispose of them properly only if the sandbags did not come in contact with floodwaters:
Spread sand on lawns or landscape beds and recycle the bag or place it in your garbage.
Keep and store clean sandbags for preparation for future events.
For sandbags that have come into contact with floodwaters, they may be contaminated with bacteria, produce odors and are considered dirty. Do not dispose of any sand or full sandbags in your regular trash.

Pinellas County is offering to recycle used sandbags for its residents. You will need to bring them to Pinellas County Solid Waste Disposal Facility at 3095 114th Avenue North in St. Petersburg.

The sand brought to Solid Waste will be stockpiled, tested and analyzed. All non-contaminated sand will be recovered and reused for future county projects and/or sandbag issuance. County officials advise you not to dispose of any sand or full sandbags in your regular trash or mix with yard debris.

For more information, you can call the Department of Solid Waste at 727-464-7500, or visit their website.
For those who do not live in Pinellas County, you should call your county's Solid Waste Department to find out your options for used or unused sandbags. The following is the contact information for each county:
HILLSBOROUGH COUNTY
332 North Falkenburg Road, Brandon, FL 33619
813-272-5680
Website

County officials recommend residents to store sandbags for reuse during possible future storms for the 2017 hurricane season. Residents who do not want to store sandbags can dop them off at any of the solid waste facilities. Click here for more information: http://hcflgov.net/en/media-center/assets/press-releases/county-reminds-residents-about-hurricane-irma-clean-up

PASCO COUNTY
14230 Hays Road, Spring Hill, FL 34610
727-857-2780
Website

The county is opening two sandbag disposal sites for residents to properly dispose of used sandbags. Sandbags should be disposed of through the proper avenues to avoid damage to storm drains and pipes, as well as to prevent draining issues and long-term property issues.
Magnolia Valley Golf Course Clubhouse, 7223 Massachusetts Ave, New Port Richey
Wesley Chapel District Park, 7727 Boyette Rd, Wesley Chapel
Due to potential flooding in Pasco County, there are also sandbag pick-up locations available. Head to the Pasco County information page for those details.
MANATEE COUNTY
941-792-8811
Website

County officials recommend residents keep sandbags in the garage or other storage area for the next time they're needed since hurricane season doesn't end until November 30. If you choose to dispose of sandbags, they should be placed alongside household garbage and they will be removed when normal garbage collection resumes next week. Sandbags should not go in with the yard waste and other storm debris.

SARASOTA COUNTY
941-861-5000
Website

The City of Venice said sandbags are a homeowner's responsibilities and Solid Waste will not be picking them up now that garbage and yard waste collection began.

POLK COUNTY
10 Environmental Loop South Winter Haven, FL
863-284-4319
Website

CITRUS COUNTY
230 West Gulf to Lake Highway, Lecanto, FL 34461
352-527-7670
Website

HERNANDO COUNTY
14450 Landfill Road, Brooksville, FL 34614
352-754-4112
Website

DESOTO COUNTY
2200 NE Roan Street, Arcadi, FL 34266
863-993-4831
Website

HARDEE COUNTY
685 Airport Road Wauchula, FL
863-773-3907
Website

HIGHLANDS COUNTY
12700 Arbuckle Creek Road Sebring, FL 33870
863-402-7786
Website