Hurricane Joaquin sweeping across central, eastern Bahamas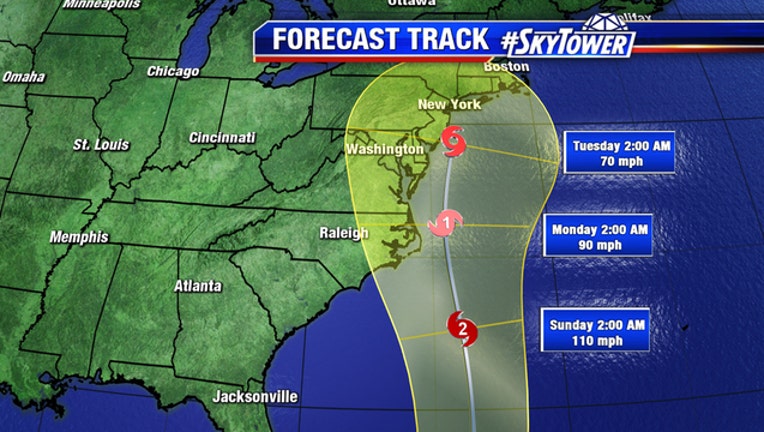 article
MIAMI (AP) - MIAMI (AP) — A powerful Hurricane Joaquin bore down Thursday on the lightly populated islands of the central and eastern Bahamas and forecasters said it could grow more intense while following a path that would near the U.S. East Coast by the weekend.
Some minor flooding and storm surge were reported, but there were no immediate reports of casualties or significant damage as the storm reached the island chain, said Capt. Stephen Russell, the director of the Bahamas National Emergency Management Agency.
Islands such as San Salvador, Cat Island and Rum Cay were expected to experience the most significant effects later in the day and Friday as the storm begins an expected shift toward the north, forecasters said
Joaquin was a Category 3 storm with maximum sustained winds of 120 mph (195 kph) and hurricane strength winds extending 35 miles (55 kilometers) from the eye early Thursday, the U.S. National Hurricane Center in Miami said. As of 5 a.m. EDT, the center of the storm was about 20 miles (35 kilometers) north of Samana Cays, Bahamas, and moving west-southwest at 5 mph (7 kph).
The storm was predicted to turn to the north and northwest toward the United States late Thursday or Friday, but forecasters were still gathering data to determine how it might affect the U.S.
"There's still a distinct possibility that his could make landfall somewhere in the U.S.," said Dennis Feltgen, a meteorologist and hurricane center spokesman.
On Eleuthera, a narrow strip to the north of Cat Island, people removed stray coconuts and other debris from their yards and put up storm shutters in blustery winds, said Chris Gosling, who runs a volunteer ambulance service on the island. Islanders have learned from past storms not to take chances.
"People don't panic too much. There's nothing you can do about it. If it comes, it comes, and you do what you can," said Gosling, who has lived on Eleuthera for 27 years. "If the forecast is right we will get some wind and rain and it will go back out to sea."
The Hurricane Center said parts of the Bahamas could see storm surge raising sea levels 5 to 8 feet (as much as 2.4 meters) above normal, with 10 to 15 inches (250 to 380 millimeters) of rain falling on the central Bahamas.
The U.S. National Hurricane Center's long-term forecast showed the storm could near the U.S. East Coast along North Carolina and Virginia on Sunday.
"Residents of the Carolinas north should be paying attention and monitoring the storm. There's no question," said Eric Blake, a hurricane specialist with the center. "If your hurricane plans got a little dusty because of the light hurricane season, now is a good time to update them."
___
Associated Press writers Tony Winton in Miami and Ava Turnquest in Nassau contributed to this report.