Good Day Gourmet: Eggplant with roasted red pepper puree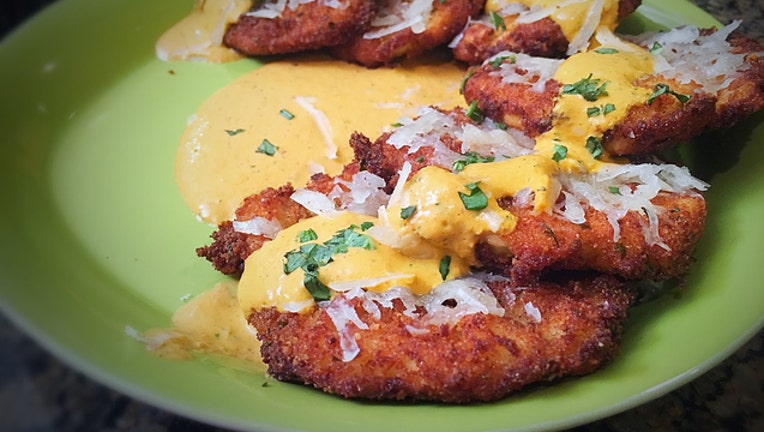 TAMPA (FOX 13) - When Russell Rhodes told Vanessa Ruffes he wasn't a big eggplant fan, she was up for the challenge.
So, she fried it, sliced it and made her own red pepper puree to help convince her co-worker otherwise.
Check out the recipe below.  And remember, you can always find more over at www.FoodSheLikes.com.
INSTRUCTIONS:
1) Prepare eggplant by peeling it, slicing it thinly, and soaking it in buttermilk with some salt. Let it stand for at least 20 minutes.
2) While you're waiting, you can make the puree. Combine all sauce ingredients in a blender or food processor and blend until smooth.
3) Set up a dredging station to bread the eggplant -- one dish of flour, another dish with bread crumbs, and then a dish with a buttermilk used to soak the eggplant.
4) Coat the eggplant in flour, then in buttermilk, then in the bread crumbs.
5) Fry the eggplant in vegetable oil in medium - low heat until both sides of each slide is golden brown. You may have to turn each slice to fry it evenly.
6) While the eggplant is still warm, cover it with some shredded Manchego cheese so it melts easily.
7) Serve the eggplant drizzled with red pepper sauce on top or on the side. Garnish with fresh chopped basil.
INGREDIENTS:
Eggplant
1 medium eggplant, peeled and thinly sliced
1 1/2 cups buttermilk
1 1/2 cups flour
1 1/2 cups seasoned Italian bread crumbs
Vegetable oil, for frying
1 cup Manchego cheese, shredded
Puree
1 roasted red pepper (can be jarred)
1/2 cup sour cream
2 tbsp. extra virgin olive oil
3 cloves garlic
2 tbsp. fresh basil
1/8 tsp cayenne pepper
salt and pepper, to taste