Good Day Gourmet: Mango Float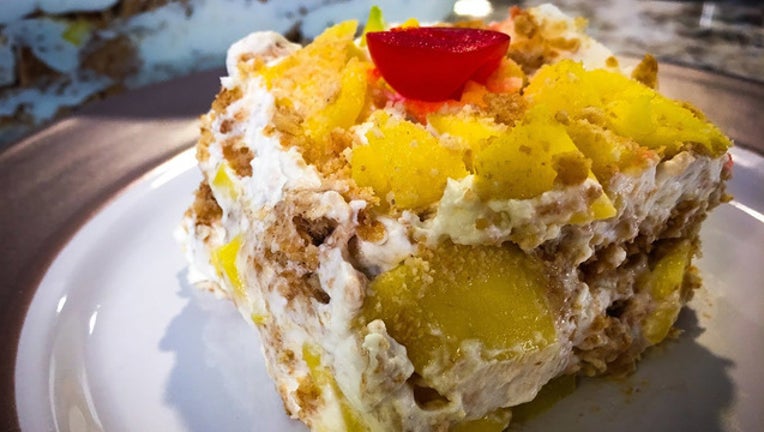 TAMPA (FOX 13) - It's time to float away to a tropical paradise.
Vanessa's Good Day Gourmet recipe is a Filipino dessert, called "Mango Float." Although, her mom calls it a "Fruit Salad," but it's so much more than that.
There are diced mangos and fluffy cream soaking into graham cracker crumbles. It's both sweet and light. Vanessa's recipe below provides 6 to 8 servings. 
Watch the video above for directions; here's what you'll need to make it:
INGREDIENTS:
1 1/2 cups ripe mango, diced
1 cup heavy whipping cream
7 oz. sweetened condensed milk
1 tsp. coconut extract
7 oz. graham crackers, crushed
Maraschino cherries, for garnish
1/3 cup sliced ginger
1 cup water
1 cup white sugar
INSTRUCTIONS:
1) Place ginger slices, water, and sugar in a pot on high heat. Bring mixture to a boil, then reduce the heat to let it simmer for several minutes. Ginger simple syrup is done when mixture reduces to the viscosity of maple syrup. It could take about 15 minutes.
2) Coat your mango pieces in some of the syrup, using a colander or strainer to strain out the excess liquid (you might want to save this syrup for drink mixers!).
3) In a stand mixer (or using a hand mixer or whisk), whip together the heavy cream, sweetened condensed milk, and coconut extract until the mixture becomes light and fluffy.
4) Build your mango float by thinly covering the bottom of a glass dish with some of the fluff, a thin layer of graham cracker crumbles, then more fluff. Top with mango dices.
5) Continue to layer crumbs, fluff, and mango, until your ingredients are all used up. Finish with another sprinkle of crumbs and some sliced maraschino cherries.
6) Cover the dish and allow dessert to chill in the fridge for a couple hours up to overnight.