1 dead after small plane crashes in backyard of Pasco County home
WESLEY CHAPEL, Fla. - Pasco County fire officials say the pilot of a single-engine Beechcraft died when they crashed in a home's backyard.
No one currently lives at the home, located in a neighborhood located off of State Road 54. The crash caused a grass fire and a portion of the backyard's fence was in flames too, according to Pasco County Fire Rescue.
The view from SkyFOX showed a damaged plane with broken pieces of a white-picket fence laying behind it. The grass and tree branches surrounding the plane appear to be scorched.
"We're counting our blessings that it didn't hit a home," said Tannell Ziegler, who lives two doors away. "It was very close, to us too close for comfort. Our thoughts are with the family now," she added.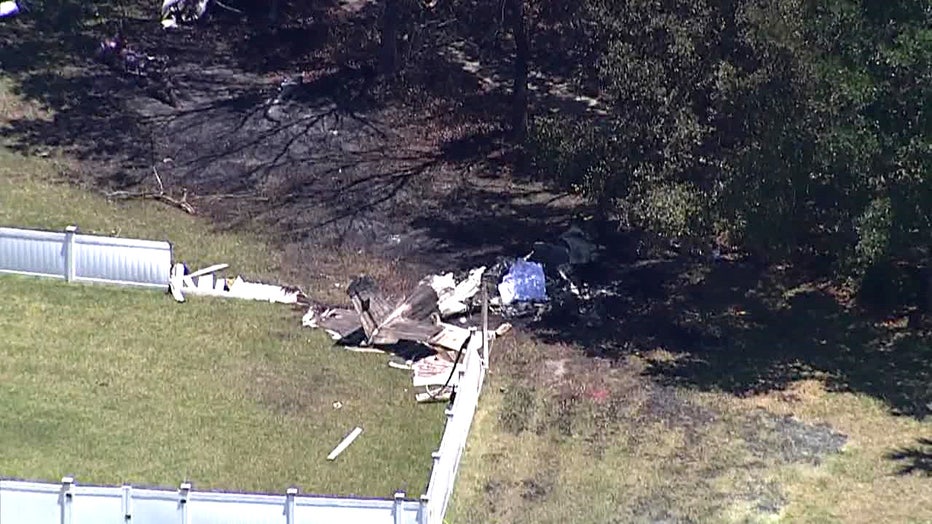 Pasco County Fire Rescue's spokesman Corey Dierdorff said the cause of the crash will be investigated by the Federal Aviation Administration. As of Tuesday afternoon, it's unknown where the plane initially took off, but there is a small airport nearby.
"The fact that they fly over the house all the time makes it more nerve-racking when the kids are out playing," said neighbor Landa Muscarella. 
County officials are asking people to avoid the area. 
"When you see the actual crash site itself, it was pretty contained in the backyard of this home," Dierdorff added. "We're very thankful that...there were no further injuries but our hearts do out go out to the family impacted."