Car crashes into Pasco home for second time in less than a year, injures dog
PORT RICHEY, Fla. - A Pasco County homeowner is fed up after a car crashed into her home Sunday afternoon. It's the second time a car has crashed into her house in less than a year. She says it sent her dog into shock.
Little 3-year-old Dragon--a Rottweiler Lab mix--is at a local animal hospital recovering after a car came crashing through a home in Pasco County.
"He couldn't breathe very well and then he started having a very bad attack. His gums went blue and we had to take him to the emergency room," homeowner Ana Lopez Sanchez said.
Sanchez believes her dog suffered a stress-induced stroke as a result of the commotion from the crash.
According to Pasco Fire Rescue, a grey Kia sedan was traveling down Jasmine Boulevard in Port Richey when the driver went off the road and crashed into Sanchez's home just before 2 o'clock Sunday afternoon.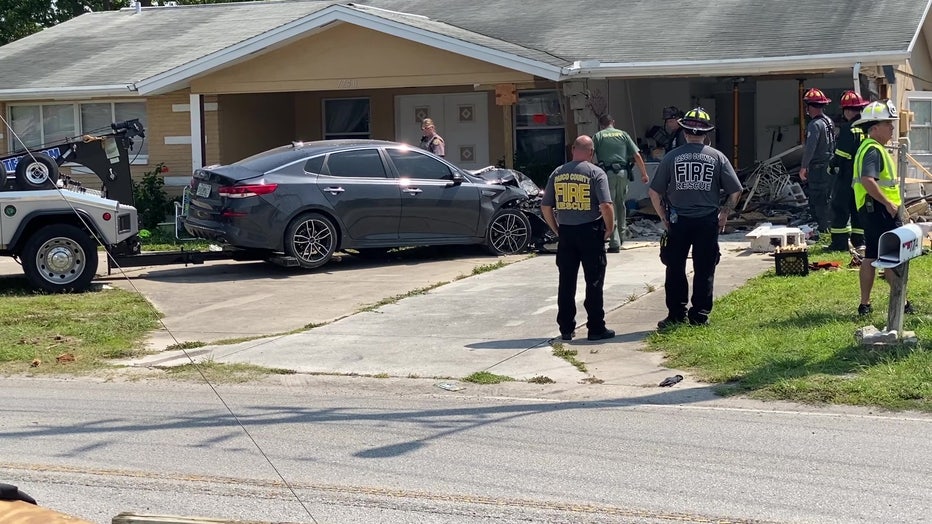 "The dog couldn't breathe, and I kept giving him mouth to mouth. I literally had to give him mouth to mouth because he couldn't breathe so it's a horrible experience. I don't wish that on anybody," Sanchez said.
It's an experience Sanchez has gone through multiple times. In August 2020, a blue Mercury Mountaineer SUV crashed into her home and caused extensive damage.
Before the August 2020 crash, Sanchez says at least 3 other times there's been crashes outside her home. In 2013, a motorcycle crashed into her parked car totaling her vehicle. In 2015, a car crashed outside her home bringing down an electric pole she says she herself paid to fix. Then in 2016, a car crashed in her parked car totaling another one of her cars.
"I am not looking for money. I am looking for safety. I want my family to be safe. I want the other neighbors in the street to be safe," Sanchez said.
Sanchez says she's reached out to the county for help multiple times asking them to install speed bumps or boulders but says she was told there's nothing they can do.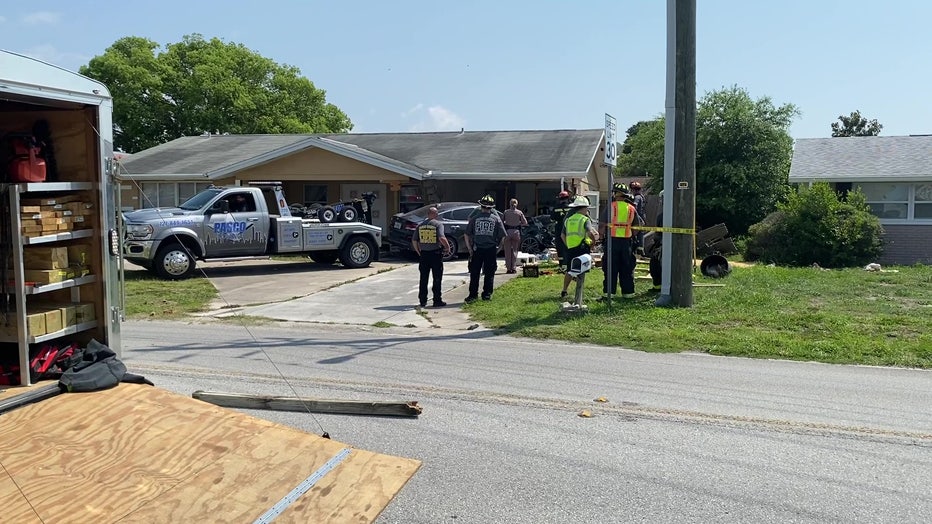 FOX 13 reached out to Pasco County late Sunday and was told there is a process for residents interested in installing traffic calming devices in their area.
Meanwhile, Sanchez is just hoping her dog Dragon will be okay.
"His fever is at 103 right now. I don't really know what's going to happen. I really hope my dog is okay. He's a strong boy," Sanchez said.
The driver was transported to the hospital with minor injuries but is expected to be okay. The official cause of the crash is still under investigation.
UPDATES: Get news alerts and updates in the free FOX 13 News app