3D mask created for dog with fractured skull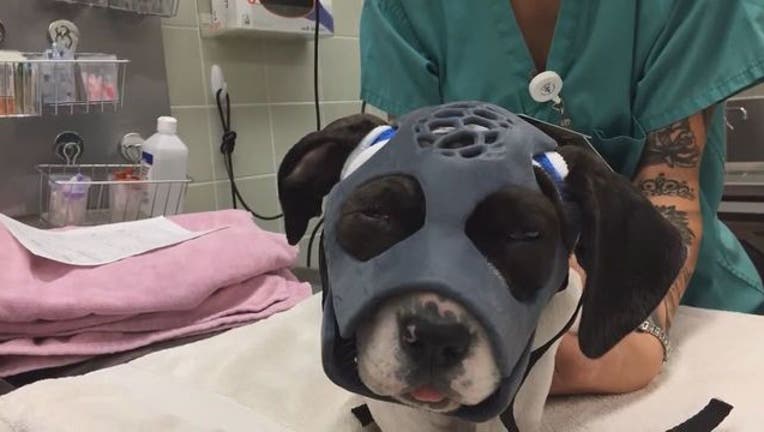 article
DAVIS, Calif. (FOX 13) - A 3D mask was created for a dog with a fractured skull.
Loca, a 4-month-old female Staffordshire bull terrier, had a fractured cheekbone and jawbone after being bitten by another dog. The University of California's Davis School of Veterinary Medicine happened to have created a special mask for canines with such injuries.
Because of Loca's young age, there was a good chance the damage would correct itself with "natural bone growth," according to a UC Davis press release. It was a good opportunity to utilize a 3D-printed exoskeleton mask as the skull heals.
The mask, dubbed as the Exo-K9, was created by biomedical engineering students along with the university staff, to fit Loca's frame. As soon as she arrived to the hospital, faculty members notified students to print the Exo-K9 if the scan showed Loca would be an ideal case, which she was. 
The school said once she received the mask, "she almost immediately began eating soft food and remained comfortable on her pain medications. In addition to the Exo-K9, Loca was fitted with a padded neck bandage to provide stabilization of her neck fracture and limit her range of mobility during the healing process."
After three months, she received another check-up which showed her healing is progressing "nicely."