A guide to the 2018 midterm elections in Florida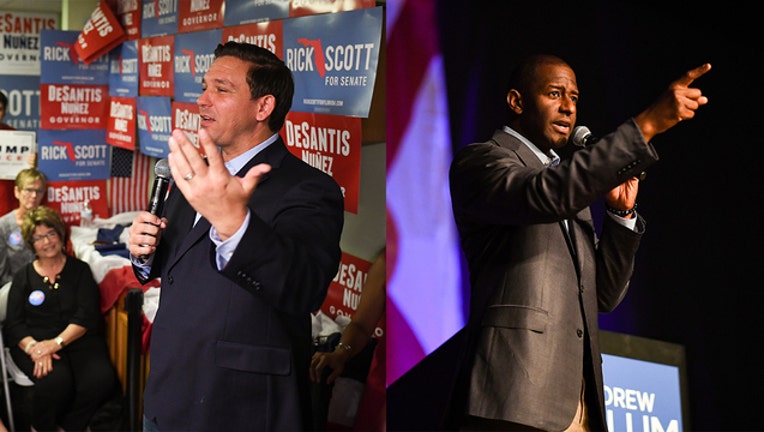 article
TALLAHASSEE, Fla. (AP) - Florida voters on Tuesday will elect a U.S. senator, a new governor, three Cabinet members and several new members of Congress while deciding to support or approve 12 proposed changes to the state's constitution.
Polls open at 7 a.m. Tuesday and closes 12 hours later. Voters must be in line by 7 p.m. in order to vote. Bay Area voters can find their precincts on the following Supervisor of Election websites:
- Hillsborough County
- Pinellas County 
- Polk County
- Manatee County
- Sarasota County
- Pasco County
- Hernando County
- Citrus County
- DeSoto County
- Hardee County
- Highlands County
Here's a look at the choices facing Florida on Election Day.
GOVERNOR
Republican former U.S. Rep. Ron DeSantis is facing Democratic Tallahassee Mayor Andrew Gillum in one of the closest watched - and improbable - governor races in the country. Both began the year as underdogs against better-known and better-funded opponents.
DeSantis built his name recognition with more than 100 appearances on Fox News, then won the primary over Agriculture Commissioner Adam Putnam by 20 points based mostly on President Donald Trump's endorsement. Gillum shocked political observers by winning the primary in a crowded field. Of the five major candidates, he spent the least and had little presence on television.
DeSantis has run a largely negative campaign, accusing Gillum of corruption and being a failed mayor. Trump visited Florida twice in the final six days of the election to help build turnout for DeSantis.
Gillum has run a largely positive campaign, rarely mentioning DeSantis while promising to expand health care, protect the environment and raise corporate taxes to boost education spending. Former President Barack Obama and Vermont Sen. Bernie Sanders campaigned for him in the final week before the election.
U.S. SENATE
Republican Gov. Rick Scott is challenging three-term Democratic Sen. Bill Nelson.
It is Nelson's toughest election year since winning office in 2000. Scott, who can't seek re-election because of term limits, had pumped more than $60 million of his own money into the campaign heading into the final week of the race.
It's been a largely negative campaign, with Scott depicting Nelson as a confused, empty-suit politician who has achieved little in his time in Washington. Nelson has criticized Scott as an untrustworthy Trump supporter who has used the governor's office to increase his wealth.
Polls have showed a tight race, and if Scott beats Nelson, there's almost no chance Democrats can regain control of the Senate.
ATTORNEY GENERAL
Republican Ashley Moody and Democratic state Rep. Sean Shaw face off in the race to replace Republican Attorney General Pam Bondi. Moody is a former judge and federal prosecutor from the Tampa area who has criticized Shaw's lack of experience in the courtroom. Shaw would be Florida's first black attorney general. The 40-year-old from Tampa is the son of the late state Supreme Court Justice Leander Shaw. He campaigned as a consumer advocate and called for new gun restrictions.
CHIEF FINANCIAL OFFICER
Republican Chief Financial Officer Jimmy Patronis is hoping to keep the seat he was appointed to fill when Republican CFO Jeff Atwater left office early. He is being challenged by former Democratic Sen. Jeremy Ring. Patronis served eight years in the state House before being appointed by Scott to the board that regulates the state's utilities. He was appointed chief financial officer in June 2017. Ring is a former Yahoo executive from Broward County. He served in the state Senate from 2006 to 2016.
AGRICULTURE COMMISSIONER
Republican state Rep. Matt Caldwell faces Democratic lobbyist and lawyer Nikki Fried in the race to replace Putnam. Caldwell is a real estate appraiser and seventh generation Floridian who served as chairman of the House Government Accountability Committee. He served eight years in the House. Fried based a large part of her campaign advocating for the medical marijuana industry and criticizing the state's implementation of a constitutional amendment approved by voters that allows medical use of marijuana in Florida. Fried would be the first woman elected as Florida agriculture commissioner.
CONGRESS
Florida will elect at least four new members of Congress. DeSantis gave up his seat to run for governor and Republican U.S. Reps. Ileana Ros-Lehtinen, Tom Rooney and Dennis Ross are retiring. Several incumbents are also facing competitive challenges.
Perhaps the best chance Democrats have of flipping a Republican seat is the District 27 seat now held by Ros-Lehtinen. Democrat Donna Shalala served as President Bill Clinton's Health and Human Services secretary and as University of Miami president. Republican Maria Elvira Salazar is a television journalist who worked for Spanish language networks.
Democrats also hope they can pick up DeSantis' District 6 seat. The party's nominee is Nancy Soderberg, a former United Nations ambassador and member of Clinton's National Security Council. She faces Republican businessman and former Army Lt. Col. Michael Waltz, who has appeared frequently on Fox News to discuss military issues.
-Republican state Rep. Ross Spano faces Democrat Kristen Carlson for the District 15 seat held by U.S. Rep. Dennis Ross. Carlson is a former prosecutor who also served as the general counsel for the Florida Department of Citrus.
-Republican state Sen. Greg Steube faces Democrat Allen Ellison for Rooney's District 17 seat. Ellison replaced April Freeman on the ballot when she died after winning the primary.
-Republicans are targeting the District 7 seat held by first-term U.S. Rep. Stephanie Murphy. She faces Republican state Rep. Mike Miller.
-In District 26, Democrats are targeting Republican U.S Rep. Carlos Curbelo, who faces Democrat Debbie Mucarsel-Powell. Mucarsel-Powell has worked for several nonprofit organizations in Miami-Dade County.
-Freshman Republican U.S. Rep. Brian Mast is facing a challenge from Democrat Lauren Baer, who was a senior adviser to Secretaries of State Hillary Clinton and John Kerry.
-Eight-term Republican U.S. Rep. Mario Diaz-Balart is being challenged by Democratic former judge Mary Barzee Flores.
BALLOT QUESTIONS
Florida will have 12 proposed constitutional amendments on the ballot, all which need 60 percent approval to pass. They number 1-7 and 9-13 after the state Supreme Court removed Amendment 8 from the ballot.
Amendment 4 could have a long-lasting impact on the state's politics. It would automatically restore the voting rights of felons who complete their sentences. It would not apply to murderers and rapists. More than 1.5 million ex-felons can't vote in Florida, and critics of the state's felon voting ban say it disproportionally affects minority voters who tend to support Democrats.
Amendment 13 would ban dog racing in Florida by 2021, which would be a blow to the industry that's been dwindling over the past two decades. Only five other states have active dog racing.
Amendment 3 would require statewide voter approval to expand casino gambling in Florida. If passed, it would take the expansion of gambling out of the hands of the Legislature.
Here are the remaining ballot questions:
- Amendment 1 would increase the state's property tax homestead exemption from $50,000 to as much as $75,000 on homes worth more than $100,000
- Amendment 2 would permanently keep in place a 10 percent cap on property tax assessments for commercial and rental properties that is current law, but is set to expire next year.
- Amendment 5 would require a two-thirds majority vote before the Legislature could increase taxes or fees.
- Amendment 6 would provide additional rights to crime victims and would raise the mandatory retirement age for judges from 70 to 75.
- Amendment 7 would require a supermajority vote before state university boards of trustees can raise fees. It would also pay death benefits, including help with education expenses, to the survivors of first responders who die on the job.
- Amendment 9 would prohibit oil drilling in state waters and ban vaping in work places where smoking is already prohibited.
- Amendment 10 would require the state to create an Office of Domestic Security and Counter-Terrorism and maintain a Department of Veterans Affairs, which already exists. It would set the start of the annual legislative session to January instead of March in even-numbered years and require counties to elect a sheriff, tax collector, property appraiser, elections supervisor and circuit court clerk.
- Amendment 11 would allow the Legislature to make some changes to criminal laws retroactive. It would also repeal language in the constitution that's now considered obsolete.
- Amendment 12 would ban elected officials, agency heads, judges and others from paid lobbying while serving and for six years after leaving office instead of the current two.
LIVE ELECTION RESULTS:
- Florida top races: Governor & U.S. Senate
- Florida's proposed amendments
- U.S. Congressional races
- Florida legislative races
___
For AP's complete coverage of the U.S. midterm elections: http://apne.ws/APPolitics