American flag flies at US Embassy in Cuba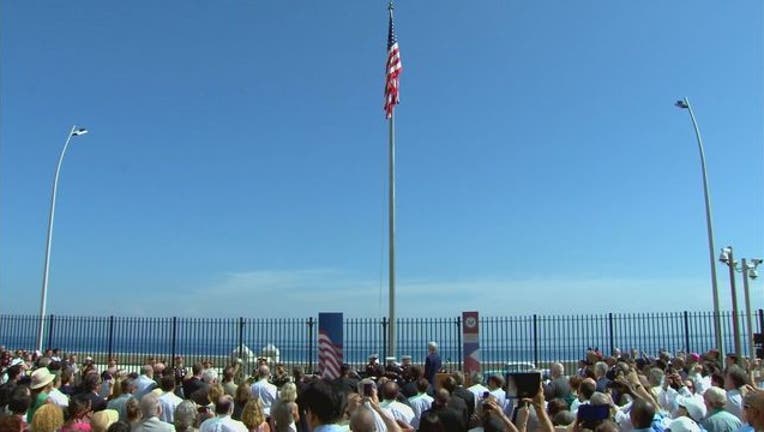 The Stars and Stripes rose Friday over the newly opened U.S. Embassy for the first time in 54 years, making a symbolically charged victory lap for the Obama administration's new policy of engagement with Cuba.
   
Some waking as early as 6 a.m., hundreds of Cubans gathered outside the embassy for what they universally called a historic day. Cuban TV carried the event live, broadcasting flattering biographical facts about Secretary of State John Kerry and interviews with Cubans who praised detente with the U.S. as a necessary and positive step for their country.
Cuban dissidents were not invited to the embassy ceremony, avoiding tensions with Cuban officials who typically boycott events attended by the country's small political opposition. The State Department said it had limited space at what it called a government-to-government event, and invited dissidents to a separate afternoon flag-raising at the home of the embassy's chief of mission.
   
Giant Cuban flags hung from the balconies of nearby apartment buildings and people gathered at windows with a view of the embassy.
   
"I wouldn't want to miss it," Marcos Rodriguez, 28, said as he waited outside the embassy. He said he and thousands of other on the island were hoping the opening with the U.S. will bring "social and economic benefits for all Cubans."
   
High-ranking Cuban officials, U.S. business executives and Cuban-Americans who pushed for warming with Cuba gathered inside the former U.S. Interests Section, newly emblazoned with the letters "Embassy of the United States of America."
   
Cuban-American poet Richard Blanco, who read a poem at Obama's second inauguration, was to read a new work before three Marines who lowered the flag at the embassy's closing in 1961 return to raise the Stars and Stripes again.
   
Kerry was then scheduled to meet with Cuba's foreign minister, the country's Roman Catholic archbishop and, separately, a hand-picked group of dissidents.
   
Among those gathering in front of the U.S. Embassy in Havana were the drivers of three 1950s-era Chevrolets parked outside the building.
   
Julio Alvarez, head of the custom cab company that operates them, said the State Department had invited him to send them without saying why, but he hoped that Kerry will take a ride in one.
   
Soon after Kerry heads home Friday evening, the Cuban and U.S. diplomats who negotiated the embassy reopening will launch full-time into the next phase of detente: expanding economic ties between the two nations with measures like re-establishing direct flights and mail service.
   
The Americans also want to resolve billions of dollars in half-century-old American claims over property confiscated after the Cuban revolution. Cuba has its own claims, as noted in a newspaper column by Fidel Castro on Thursday saying the U.S. owes the island "numerous millions of dollars" for damages caused by the embargo.
   
"We have diplomatic relations; now we can get to the real work," said Wayne Smith, a retired U.S. diplomat who witnessed the closing of the U.S. Embassy in 1961, served in Cuba under President Jimmy Carter and returned this week to attend Friday's ceremony.
   
Obama and Raul Castro announced on Dec. 17 that they would re-establish diplomatic ties 54 years after the flag was taken down from the embassy overlooking Havana's seaside boulevard, the Malecon.
   
Obama also said he would be moving to empower the Cuban people by loosening the U.S. trade embargo on Cuba through a series of executive actions that make it easier for American citizens to travel to the island and trade with its growing class of private business owners.
   
Eight months later, Havana has repeatedly demanded a complete lifting of the embargo. It has not responded to Obama's actions with measures that would allow ordinary Cubans to benefit from them, such as allowing low-cost imports and exports by Cuban entrepreneurs looking to do business with the U.S.
   
"I think we're ending one phase and entering another," said Robert Muse, a U.S. lawyer specializing in Cuba. "The handshakes, the fraternal regards, the raising of the flags, that'll end on Aug. 14. Then I think it's very particular conversations begin."
   
While Cuba has increased its highly limited Internet access since Dec. 17 in a measure U.S. officials partially attribute to the warming with Washington, ordinary Cubans are growing increasingly impatient for concrete results from the new relationship.
   
"I'm optimistic but cautious," said Rolando Mendez, a state worker walking outside the embassy. "We have to wait and see how events develop and if there really will be benefits for the two peoples."
   
The U.S. tried several times to hold discussions with Cuban officials about the details of Obama's loosening of U.S. regulations, but those meetings never happened amid the pressure to strike a deal allowing the reopening of embassies in Havana and Washington on July 20.
   
U.S. diplomats say that such a meeting, which will hopefully lead to a real increase in trade with the U.S., is among the top priorities of the normalization talks expected to start in earnest in coming weeks.
   
Kerry said in a series of interviews with Spanish-language press Wednesday that the day would move the U.S.-Cuban relationship into a series of detailed talks about topics including "law enforcement, maritime security, education, health, telecommunications."
   
"We will talk very directly about a sort of road map toward real, full normalization," Kerry said.
   
------
   
Associated Press writer Michael Weissenstein reported this story in Havana and Bradley Klapper reported from Washington. AP writer Anne-Marie Garcia contributed to this report.
   
------
   
Michael Weissenstein on Twitter: https://twitter.com/mweissenstein
   
Bradley Klapper on Twitter: https://twitter.com/bklapperAP