Annual Epiphany celebration and cross dive returns to Tarpon Springs for 117th year
TARPON SPRINGS, Fla. - It's a timeless tradition celebrated every year by the Greek Orthodox Church, and on Friday, large crowds turned out for the 117th Epiphany Celebration in Tarpon Springs.  
To honor the baptism of Jesus Christ, an archbishop blessed the waters of Spring Bayou, the gospel was read, and a white dove was released, signifying the Holy Spirit. This followed a service at St. Nicholas Cathedral Friday morning.
Then, 65 teenage boys jumped in to retrieve a wooden cross thrown in by the archbishop. 
This year, 16-year-old George Stamas, who lives in Tarpon Springs, reached the cross first. 
He is the cousin of the 2018 winner, Christian Chrysakis. His great-grandfather also retrieved the cross back in 1938.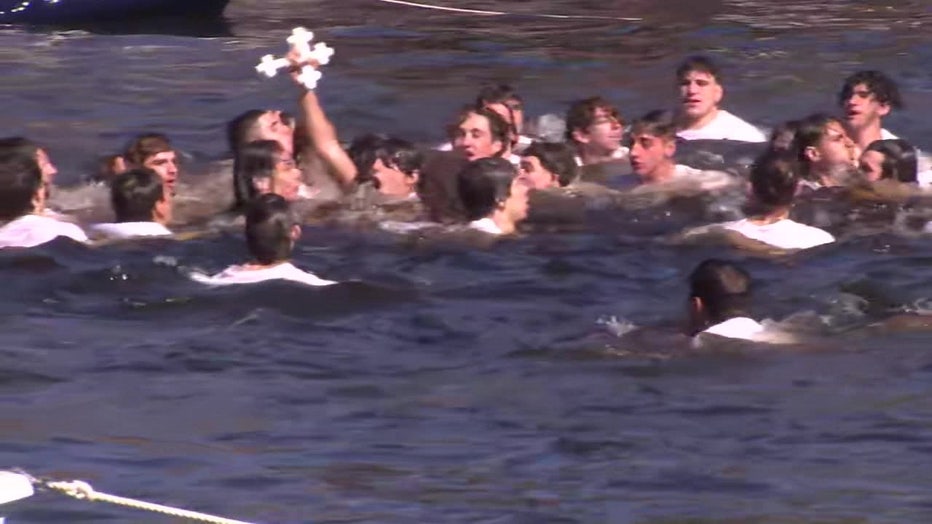 16-year-old George Stamas was the 2023 cross dive winner.
Stamas is currently the Tarpon Springs High School quarterback for his football team.
"All of us are blessed, truly blessed to catch the cross and God chose us for a reason, so we have to show that," Stamas said. "I've been looking forward to this since I was a little kid. I've always wanted to dive. My cousins have dove. My dad has dove, my whole family, and now I get to, and I've retrieved the cross."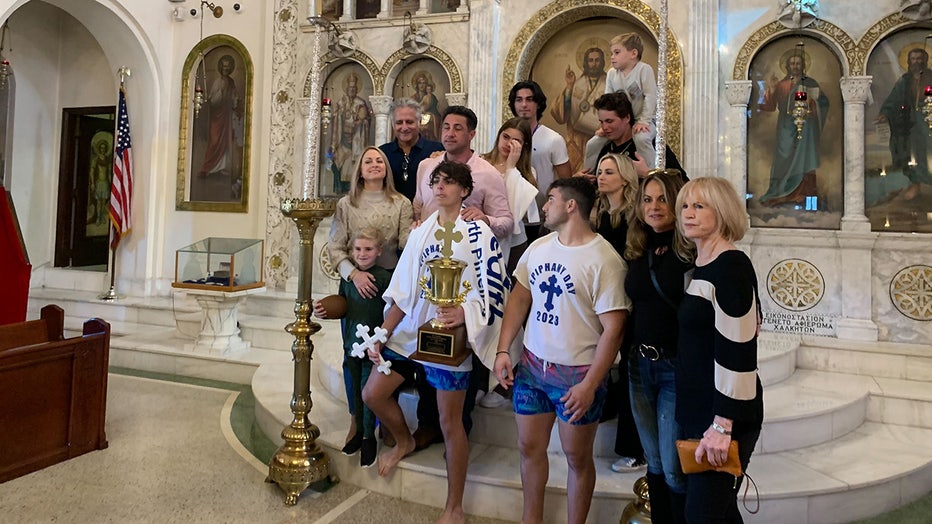 16-year-old George Stamas, who retrieved the wooden cross at the 117th annual Epiphany Celebration in Tarpon Springs, poses for a photo with his family.
Stamas said he jumped into Spring Bayou Thursday night as a test run and said a prayer. 
"Nothing was luck. All blessed," he said. "We're going to cherish this. God blessed us for this to happen, so it's a blessing, so it's for a reason," Stamas said.
His family was beaming with pride as they took pictures afterwards.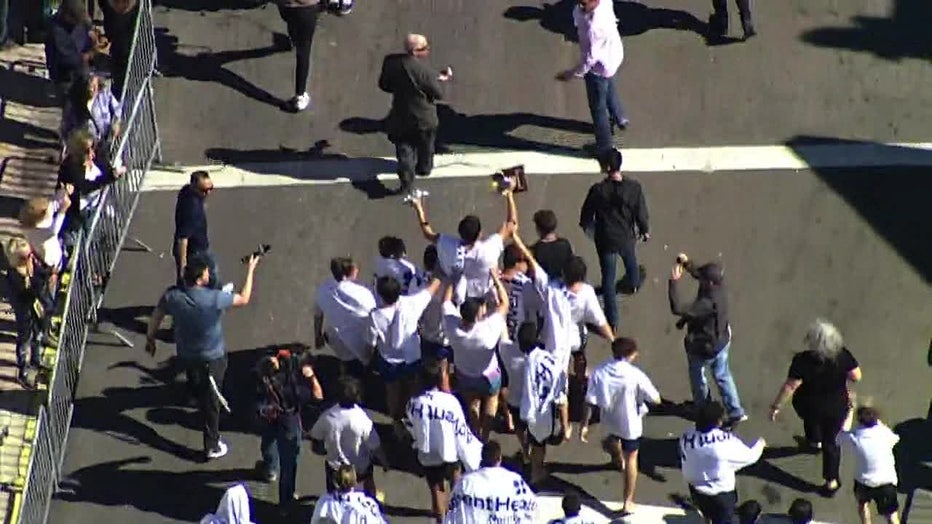 George Stamas was carried by his peers after the cross dive.
"Georgie has always been a really good kid with a really good heart, and I think that He bestowed it on upon George, because it's going to set the stage for big, big things in his life, and I'm looking forward to standing by and watching those things unfold," Stamas' father, Chris Stamas, said.
It's said to bring good luck to the person who retrieves it for the rest of the year. It's a rite of passage for those who participate, and they have to be in good standing with the church.
The ceremony also symbolizes the end of the Christmas season and the beginning of the new year. 
Last year, 16-year-old Alexander Makris of New Port Richey emerged with the cross held high in the air. 
Tarpon Springs' celebration is the largest Epiphany Celebration in the Western Hemisphere.
In the past, the prime minister of Greece along with other high-ranking church members were present in Tarpon Springs for the event.