Armed suspect shot by police after 3-hour standoff in St. Petersburg
ST. PETERSBURG, Fla. - An armed suspect is in custody after being shot by police in St. Petersburg following a three-hour standoff. 
According to the Pinellas County Sheriff's Office, Jered Fenderson, 26, invited a woman, her boyfriend and child to stay with him inside his one-room apartment located inside a boarding house located on 29th Street S., which is just outside the popular Grand Central District.
Sheriff Bob Gualtieri said Fenderson left the apartment and when he returned the three people, who are transients, were sleeping in his bed.
The sheriff said the suspect pointed a gun at the trio and started threatening them because he was upset they were in his bed.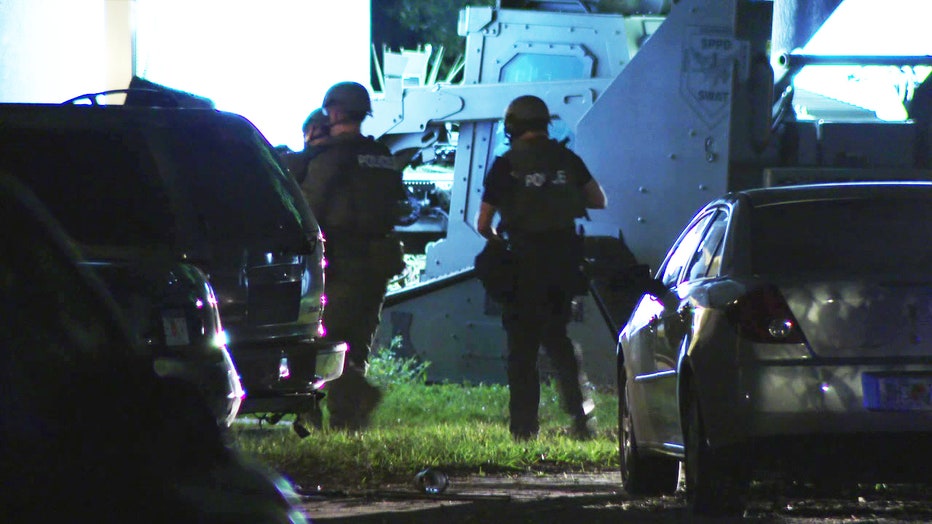 Police outside boarding home during armed standoff early Thursday morning. 
The three people made it outside and called police. 
According to Gualtieri, police were trying to contact Fenderson and planned on charging him with aggravated assault. 
READ: Largo lawyer murder: Blood, firearms, $280,000 cash found in search of surgeon's vehicles, home, police say
That's when Fenderson came out of the boarding house and began firing at officers. 
An officer returned fire, but did not hit the suspect. 
Gualtieri said Fenderson went back inside and began randomly firing shots inside the boarding house. 
At least half a dozen people were evacuated as Fenderson barricaded himself inside. 
READ: Missing Arkansas teen found in Tampa more than two months after she was last seen, investigators say
PCSO says Fenderson exited the home several times and opened fire. 
The SWAT team was called to the scene and a sniper shot Fenderson in the chest. 
After being shot, Fenderson retreated back inside the home and the SWAT team found him lying on the ground in the hallway. 
He was taken to Bayfront Health in critical condition but is expected to survive. 
No officers or bystanders were injured during the shootout. 
The Pinellas County Use of Deadly Force Investigative Task Force is taking over the investigation, which is standard procedure. 
This is a developing story. Check back for updates.