Assisted Living Facility hosts Easter Egg Hunt for residents
CLEARWATER, Fla. - Residents at an assisted living facility in Clearwater are getting the chance to feel like a kid again.
Every year, Emerald Gardens Inc. holds an Easter Egg Hunt for its residents, hoping to bring them joy and keep them sharp.
Many of the residents have limited mobility, so the facility makes some modifications. Instead of making them roam around to find eggs, the staff arranges an Easter basket filled with decorated eggs, and the residents have to find the golden one in the pile. 
Staff members at the facility say that even though it's a silly game, it helps refine their cognitive skills.
READ: Pier 60 Sugar Sand Festival brings 'blast from the past' to Clearwater
"The idea is to keep them active and keep their minds going," said Kamran Rouhani, owner of Emerald Gardens.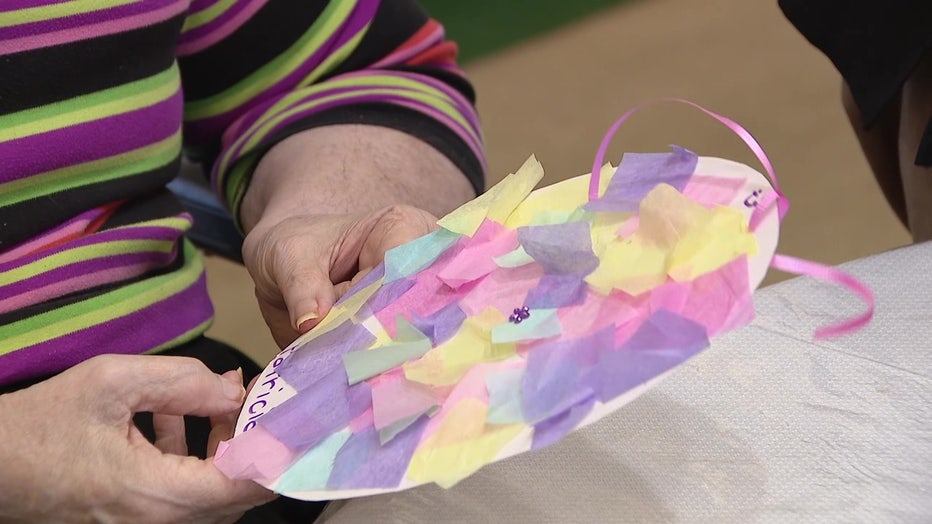 Easter decoration created by Emerald Gardens resident 
And you can't have an egg hunt without prizes! The golden eggs are filled with typical treats like chocolate, jelly beans, and candy.
"Once they discover it, they actually get really cheerful about it, and you can see the smiles on their wonderful faces," said Rouhani.
In addition to the "hunt," the day is filled with arts, music, and physical activities.
This year, the participants made paper egg designs and hung them on their doors to remind them of their fun day.
MORE: Tampa's Cando Sports paves way for thousands of kids to receive coaching, instruction
Emerald Gardens is an assisted living facility geared towards elders who need help with daily tasks but want to maintain their independence. 
By hosting social events like this, staff say they observe positive impacts on their residents' mindsets.
"For us, to see the smile on their faces is the biggest reward," said Rouhani. "It makes them feel alive, it makes them feel like when they were younger."