Pier 60 Sugar Sand Festival brings 'blast from the past' to Clearwater
CLEARWATER, Fla. - Sandcastles have taken over the beach near Pier 60 in Clearwater, but these are not your average sandcastles. 
For its ninth year, Pier 60 Sugar Sand Festival has taken over the beach and filled it lots of sand and memories from several decades.
"Decades: A Blast from the Past" is this year's theme, filled with the cult classics of the 50s, 60s, 70s, 80s and 90s. 
READ: Volunteer group left wondering why Pinellas school district closed local community center
Lisa Chandler, the founder of the Pier 60 Sugar Sand Festival, says this is a major production that brings in sand sculptors from across the world. 
"It took 11 days to build the sugar sand walk exhibit with 14 master sculptors from around the United States and as far as Europe, 1,000 tons of sand, our Clearwater beach sand," Chandler said. 
Aside from taking a walk through the sand, this year's theme is a walk through years past as well. Attendee, Theresa Satkowiak, says that this exhibit has been a nostalgic walk through for her.
"It's kind of cool to walk through and see memory lane for sure, because I've lived all of these decades" Satkowiak says.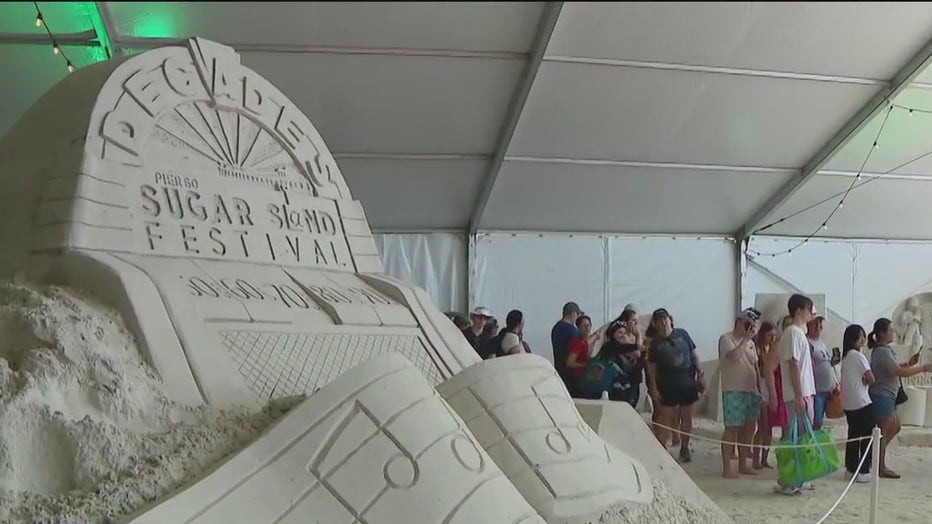 MORE: Boy attacked by bicycle thief given new bike by Clearwater officers
Whether you've lived through these decades, or are seeing names like "I Love Lucy," "Pink Floyd" or "The Flintstones" for the first time, Chandler says there's something for everyone to enjoy. 
"The most rewarding thing is watching people's reactions when they come inside, it's definitely the wow factor," Chandler says. 
For kids like River Stern, seeing different characters brought to life in the sand has made him eager to build his next sand castle and maybe even recreate his favorite one he saw. 
"The Mario was my favorite, because I play a Mario game on my Nintendo Switch" says River. 
With 21,000 square feet of sand sculptures, the Sugar Sand Festival says they expect this year to be their biggest year yet. The festival is open from April 7-23.
PREVIOUS: Clearwater High School teachers have formed a special bond
Proceeds from tickets sales for this event go to multiple charities throughout the Tampa Bay area and to art initiatives of the Sunsets of Pier 60 Festival. 
For more information on this exhibit you can visit, sugarsandfestival.com.