Attorney wants answers in case of foster baby killed by family dog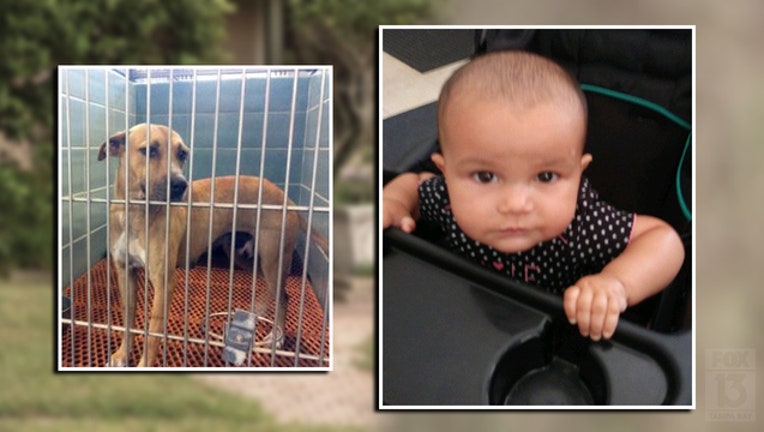 CLEARWATER (FOX 13) - Just days after a dog killed 7-month-old Khloe Williams, it's still unclear how the dog was able to get a hold of the little girl. The attack happened while she was in the care of her foster father's parents.
"She wasn't old enough to crawl," Khloe's mother, Shavon Grossman, said. "She wasn't old enough to walk. I don't understand. I just want answers for this."
Khloe's foster father was Clearwater Police Detective Jonathan Maser. At the time of the attack, Maser's parents were babysitting Khloe at their home in Clearwater when their dog attacked the little girl early Friday afternoon.
"We're here to ensure that the mother's rights aren't infringed upon anymore than they already have been," Grossman's attorney Nioti Koulianos said. "We are here to ensure that nothing like this happens again to another child."
According to information obtained from Eckerd Connects, the foster agency, the dog was never evaluated for its temperament and the home was never inspected to determine if it was safe for the child because it is not required by law.
Instead, Florida only requires the screening of the foster family's home and pets, not relatives' pets.
We asked Eckerd Connects for the list of questions they typically ask foster families when evaluating the behavior and temperament of their pet, but they refused to provide us with those questions.
Before the attack, Grossman describes having a friendly relationship with the foster family and regularly exchanged photos and received updates on her daughter, but since the attack, she says the foster family hasn't reached out to her to explain what happened.
"We just searching for justice for Khloe," Koulianos said. "And we're going to get it."
We've made attempts to get in touch with Detective Maser and the foster family, but have not heard back.
Currently, the child abuse investigation by the Pinellas County Sheriff's Office and the criminal investigation by the Clearwater Police Department are on-going.