Bad karma convinces condiment thief to buy new ketchup bottles for N.J. restaurant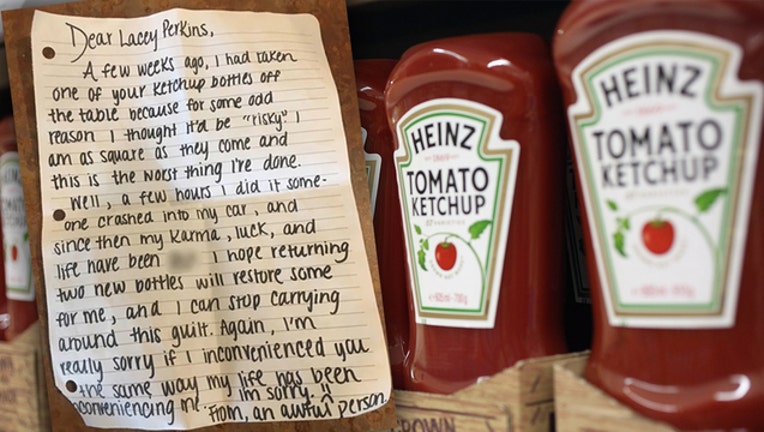 article
LACEY TOWNSHIP, N.J. (FOX 13) - A ketchup thief appears to think she received some bad karma for her crime.
A New Jersey woman swiped a bottle of Heinz ketchup from a Perkins Restaurant and Bakery in Lacey Township. It wasn't long until she returned with two new bottles and a note apologizing for her theft at the restaurant. 
The ketchup culprit said ever since her theft, she had a string of bad luck, including being involved in a car accident.
"A few weeks ago, I had taken one of your ketchup bottles off the table because for some odd reason I thought it'd be 'risky,'" the note read. "I am as square as they come and this is the worst thing I've done."
"Well, a few hours I did it, someone crashed into my car, and since then my karma, luck and life have been [expletive]."
According to the note, the woman hoped that by bringing two new bottles she "can stop carrying around this guilt."
"I'm really sorry if I inconvenienced you the same way my life has been inconveniencing me. I'm sorry."
The note ended with, "From, an awful person."
The thief's note, receipt, and two bottles of ketchup are displayed in the eatery. 
This story was written in Tampa, Florida.